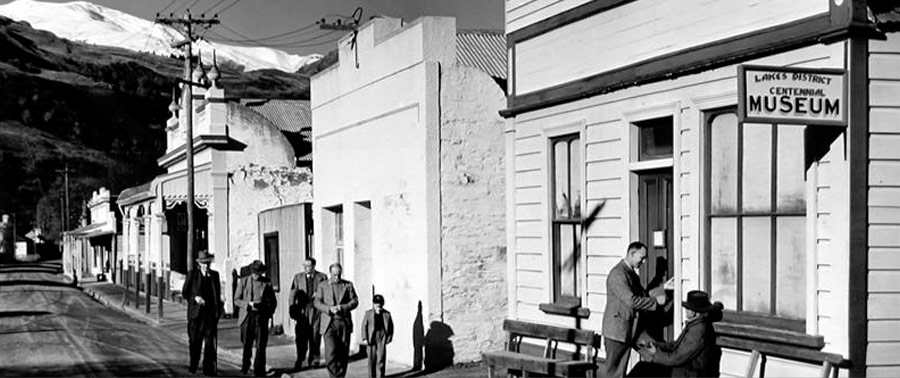 Year 11 - 13 Options
As well as the established programmes below, the education officer is willing to work with you to develop a session that suits your assessment requirements.
---
HISTORY
Use the Wakatipu as a living classroom by visiting historic sites. Learn how to use a variety of primary and secondary resources in our purpose built archives facility, where students can immerse themselves and get enthusiastic about research!
NCEA 1.3 - Interpret sources of an historical event of significance to New Zealanders: GOLD RUSH!
NCEA 2.1 - Carry out an inquiry of an historical event or place that is of significance to New Zealanders: Otago Gold Rush
NCEA 2.2 - Examine an historical event or place that is of significance to New Zealanders: Otago Goldrush
NCEA 3.1 - Plan and carry out independent historical research: Otago Gold Rush

NCEA 3.2 - Communicate and present historical ideas clearly to show understanding of an historical context.
Put 19th century New Zealand into context - great for inspiring Year 13 students for their external assessment.
Try and allow at least a full day (schools can spend two days) to allow your students to get as much research done as possible.
"Students were able to do a lot of research and enjoyed it! Having access to lots of primary and secondary sources and material they would not normally see was very useful." Year 11 teacher
"Great access to archives and excellent help from the Educator" Year 13 History teacher
"Archives were surprisingly fun!" Year 12 History student
"I liked handling the primary resources and going through the process of gathering information that could not be gathered anywhere else." Year 13 History Student
Sample Programme:
| | |
| --- | --- |
| Time | Activity |
| 9.30-11.00 | Brief Tour of Museum and Intro to Archives |
| 11.00-11.15 | Break |
| 11.15-12.15 | Archives Research |
| 12.15-1.00 | Lunch |
| 13.00-14.00 | Historic Walk |
| 14.00-15.00 | Chinese Village Tour |
| 15.00-16.00 | Archives Research |
---
GEOGRAPHY
AS3.2 Analyse a cultural process - Tourism: Queenstown: A case study. An interactive talk and presentation at the museum with content that includes spatial variation maps, temporal changes and the effects of tourism in the Wakatipu area.
We can also arrange a booking with a Senior Constable from the local Police who can provide an informative talk on the social effects of tourism in Queenstown and the Lakes District.
A self directed visit to the Museum after the presentation can be included with the booking.
We now have access to modern facilities for larger school bookings - due to a growing demand!
Access to primary materials such as photographs, newspapers and oral history extracts can be made available.
"An integral part of my Year 13 programme" Year 13 teacher
"Very informative and relevant to NCEA" Year 13 Geography student
"The information was perfect for the 3.2 Standard. Good balance of theory and discussion points. Mapping task was a good practical component. Really enjoyed having the local police constable in to talk about the social issues around the Queenstown region........really good info for the impacts part of the 3.2 Standard. Good to see Geographic terminology being applied in the presentation eg spatial, patterns, clusters, interaction etc. The powerpoint and write on task sheets were very comprehensive." Year 13 Geography Teacher
"The speaker lady was wonderful, full of humour and easy going and really relaxed with us and our questions bu also silence. i found the presentation quite enjoyable" Year 12 Geography Student
---