Latest News Blog
Friday, 11th September 2015
---
Southland Girls' summarise the tourism timeline...
Thursday, 21st June 2012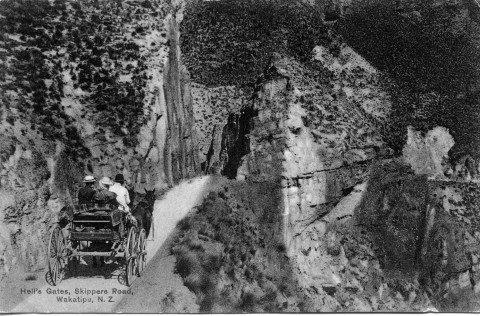 Early 'adventure' tourism...a coach jounrey in Hell's Gate, Skippers
Today, saw twenty seven Year 13 students from Southland Girls' squueze into the 1880s schoolroom and hear a talk on the 'tourism timeline' of Queenstown.
The talk supplemented by historic photos explained the spatial and temporal changes in Queenstown's tourism. Students completed a worksheet and a mapping exercise to illustrate these changes. Dividing progress into three periods students could also see the impact of tourists on Queenstown. As some commented tourism can be a double-edged sword, in some respects fantastic for the region - bringing in valuable $$$, but in other respects not so good - increasing visual and noise pollution....
We hope you all gained some valuable knoweldge for your NCEA Level 3 Geography course (tell us about your visit on this blog!) and wish you all the best for the rest of 2012.
By: Hands on History @ 15:23:36 -