For Students -
Geography
The Wakatipu basis provides an effective case study to help you as geography students to study and understand the effects of not only natural phenomena on the landscape, but also social phenomena as well.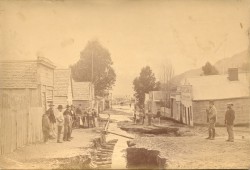 Specific worksheets and resources have been developed in conjunction with teachers to assist you with:
NCEA 1.1 - Demonstrate an understanding of environments that have been shaped by extreme natural events - Flood!
NCEA 2.1 - Demonstrate geographic understanding of a large natural environment - The effects of human activities on natural landscape: South Island High Country, Queenstown Lakes & Central Otago
NCEA 3.2 - Analyse a cultural process - Queenstown: A case study
More geography options being developed – inquire with the education officer
---
Visit Preparation
Have a discussion with your teacher and classmates. What is it that you would like to get out of the visit? Prepare some questions to ask the educator on your visit.
What to bring
On arrival make sure you have:
A writing instrument (pencils are preferred)
Plenty of refill (worksheets are provided)
An Inquiring Mind (to challenge yourself and test the educator's knowledge)
---
Watch this short video from 1969 which advertises New Zealand as a hip place to visit for Australians!