For Students -
History
Whenever you start a research project, it is easy to feel overwhelmed by the amount of information you need to find. However, if you follow the guidelines given to you by your teachers and some of the key steps below, you can ensure that you will get the most out of your limited time at the Museum.
Pre-visit preparation

Which topic interests you the most?
Choose a topic from the guidelines given by your teachers and think about something that interests you. The more a topic interests you, the easier you will find the research.
What are your key questions?
This helps to FOCUS and REFINE your research. Make sure you are very clear with your questions. If they are vague, they will be very, very difficult to answer. If you have a yes/no question, make sure you find the why/why not out.
Where can you look to answer your questions?
What are the different sources you could use? Are they reliable? Why/why not? Are they primary or secondary resources? What are the advantages of each source? Make sure you know the difference between primary and secondary resources before you come to the Museum.
What are your keywords?
The Museum has a computer database that you will be able to use to help you find primary and secondary resources. Think of keywords that might bring up the information you are after.
i.e. Law and Order: criminal, gaol, court, lawyer, crime, disorder, mischief, justice, defendant, prosecutor, police, gold escort, arms, murder, claims, summons, legal, law, warden etc.
Brainstorming some key words before you visit is a lot easier than coming up with keywords on the spot - especially when 'law and order' doesn't bring up much to help you answer questions.
What to bring
On arrival make sure you have: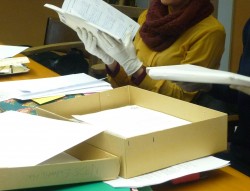 Pencils (you cannot use pens in case they permanently damage our resources)
Pencil sharpener, eraser
Plenty of refill
YOUR RESEARCH QUESTIONS!!!! (It is very hard to complete your research without them!)
The education team looks forward to working with you to help you complete your research.