Latest News Blog
Friday, 11th September 2015
---
Columba concentrate on the cultural process of TOURISM!
Wednesday, 21st March 2012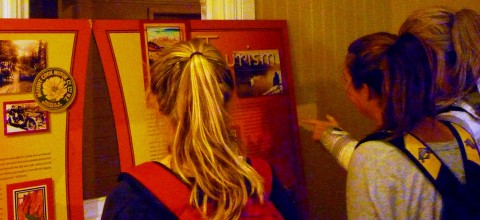 Tourism trivia...
This week saw the Lakes District Museum welcome it's first Geography students! Year 13 students from Columba College in Dunedin spent a morning session tracking the temporal and spacial variations of tourism in Queenstown as well as looking at the impact of tourists in the Lakes District.
Using maps student plotted changes in tourism over time; these changes have been largely influenced by increased technology and infrastructure.
Tourism is an ever growing phenomenon in the area. It was first pioneered by early settlers in the late 1800s and with the recent announcement about the expansion of the airport it looks set to continue into the future....
Columba College we hope you enjoyed your visit to us, please post us a blog about it!
By: Hands on History @ 12:07:58 -
---
Comments (1)