Latest News Blog
September 2013
---
Monday, 30th September 2013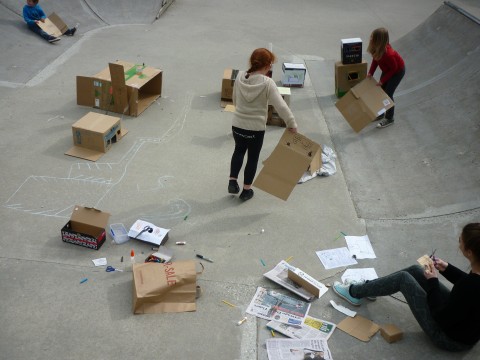 Construction City
We have had a full on start to the term 3 school holidays! Monday mornings session started with a Museum tour, a museum treasure hunt, paper plane competitions, and building a dam down at the Arrow river.
For Tuesday we built a construction city with old boxes. We also did some sports drills for team bonding, and finished our dam at the river. What do you think of our photos? The kids from the holiday programme took the photos!
Wheels Wednesday went off with a hit! We had scooters, bikes, roller blades, and even a skate board for the morning session! We had time trial races around the skate par before the rain chased us inside for an hour. But that didn't stop us having fun, as we dressed up in old fashioned costumes and played old fashioned school games. When the rain eased off we were back outside at the skate park for more action as well as some chalk art. We even squeezed in some time at the River to keep working on our holiday programme dam!
We spent Friday movie day watching Harry Potter and the Philosophers Stone and coloring in awesome pictures of Spongebob Squarepants, Angry Birds, and Batman!
In the second week, we spent the Tuesday creating chalk art and making origami paper boats to race down the Arrow river. We reenacted the America's Cup race, but this time New Zealand was the winning team! We also squeezed in some gold panning, and some inside Museum fun.
Thursday, the last day of the programme, we had so much fun painting our faces! We had kittens, vampires, snow leopards, Phantom of the Opera, the lead singer from Kiss, and a butterfly! We had a great time at the skate park playing games and doing team building exercises, before retreating inside from the rain to watch a movie called Illustrious Energy which is based on the hardships the Chinese miners experienced when they came to New Zealand.
I had a great time with you all and I hope you enjoy the rest of your holidays!!
Comment below about your favourite part of the holiday programme and why it was your favourite!
By: Amy Taylor @ 14:20:00 -
---
Friday, 27th September 2013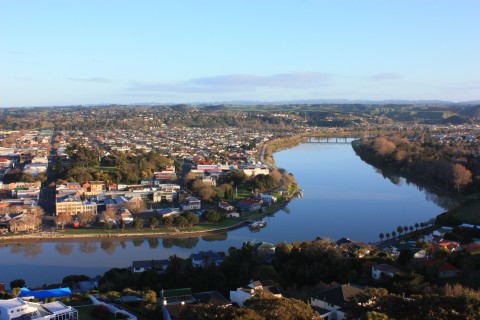 Wanganui River and a view of some of the township
Year 12 students all the way from the North Island spent the last day of term 3 with us at the Museum! We used the local community Church hall because there was a large group of students (27), where students heard a presentation about Geography and the human impact on the region! We had A3 posters on the desks which had information about tourist attractions in Queenstown, and we also watched a short advertising clip from the 60's which was marketing Queenstown overseas. It was an information overload for these students but luckily they had a fun activity of gold panning to finish the trip! Many thanks to the teachers who helped run the Gold panning session!
What was your favourite part of the trip from the South Island?
Did you find any gold?
What do think has been the most dramatic impact humans have had on the landscape in Queenstown?
Comment below!
By: Amy Taylor @ 13:29:26 -
---
Thursday, 26th September 2013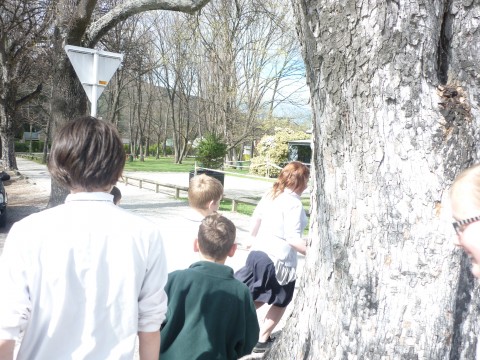 Skipping around Mary Cotters tree for good luck
Aurora College students drove up to spend a day with the Museum to learn about the hardships and challenges the early miners faced. They also came to the Museum to learn about the treatment of Chinese settlers some mining methods. So for their visit our activities included:
a museum visit which included handling a real Moa bone
A historic walk of Arrowtown where we saw the historic cottages the miners lived in and the Old Gaol!
A tour of the Chinese settlement and Ah Lums store
And a bit of gold panning (some students even found gold)!
We learnt that even though the Chinese settlers had been invited by the Otago provincial government they weren't welcome by the local European settlers. We also learnt about how industrious and hard working the Chinese were and how they eventually earned the respect of the local European settlers. Some of the students found gold when they went panning, while others didn't. Those students who didn't find gold truly learnt and understood about the hardships the early miners faced here in Arrowtown, as this gold was meant to be their livlihood and be able to support their families, so not finding any gold would've been a great disapointment.
Denise and I really enjoyed having all of you come spend the day with us and we hope you have a safe trip back!
Did you find gold?
What was your favourite part of the visit?
Can you remember the name of the person who first found gold in the Arrow river?
Comment below!!
By: Amy Taylor @ 15:47:22 -
---
Monday, 23rd September 2013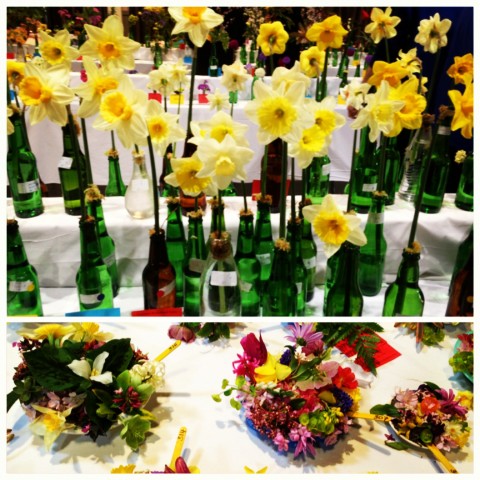 Sand saucer and daffodil entries in the Arrowtown Spring Flower Show
The Arrowtown Spring Flower Show was held last Friday, and the local town hall was filled with beautiful flowers. It was exciting to see the Junior students sand saucer and sand cup entries from Arrowtown School, as they had used a nature walk through the Museum to observe the comings of Spring and for inspiration for their flower show entries. Daffodils are a wonderful sign of spring, as they only come out and bloom during September and October. Near Milton is a very large field of daffodils which are in full bloom. Their yellow faces make a friendly sight!
Do you know of any other flowers that bloom in Spring?
Apart from blooming flowers, what are some other signs of Spring?
Comment below!
By: Amy Taylor @ 14:23:05 -
---
Friday, 20th September 2013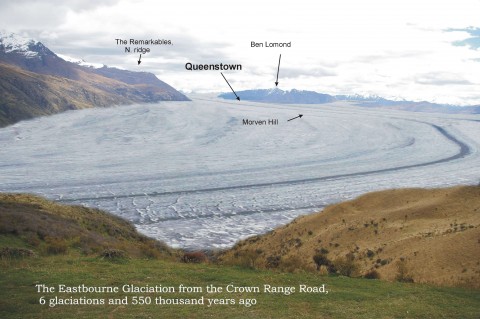 This is an image of the Crown terrace which has been photoshopped to show the extent of glaciation during the ice age!

The second booking we had for today was Tokomairiro, who also had students go for a bungy jump after the presentation! With these Geography students, we discussed how glaciation has made the Wakatipu region such a beautiful place to visit. This is because the glaciers dug out large chunks of the landscape which helped form our beautiful deep lakes. The glaciers also rounded out and smoothed our smaller, lower hills leaving them to aesthetically contrast with steep, sharp, mountains which remained untouched and unaffected by the glaciation. We also discussed social perceptions of Queenstown (such as it being a party town) which may have contributed to a higher crime rate than the rest of New Zealand.
The students really enjoyed a tourism video promoting Queenstown which was made in the 1960's. I have another video linked up below, which is marketing New Zealand to our Australian visitors. The video features some really groovey and psychedelic intro music, watch it below!
What are your social perceptions of Queenstown - comment about them below? - I want to know!
How did you enjoy your bungy jump? What would be the next adventure tourist activity you would like to try?
By: Amy Taylor @ 15:50:00 -
---
Friday, 20th September 2013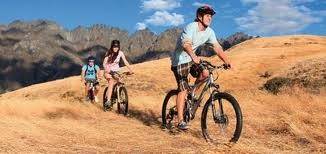 Cycle tracks around Central Otago are helping to create a new niche market of bike tourism
Today is a double whammy of geography bookings here at the Museum with East Otago High in the morning followed by Tokomairiro in the afternoon! There was rainy miserable weather outside, but inside the Museum and our conference room we were toasty warm! I usually play a short video during the presentation, but we were tight on timing this morning - so I hope you all watch this great tourism video I have linked below!
The extreme adventure activities part of the talk is always a highlight for students - and even more so today with East Otago, as some of the students were going to go for a bungy jump right after the presentation! During our talk we also talked about how a large proportion of our international visitors are from Australia! This has been happening since the 60's when Coronet Peak was first opened. The video below is a great example of how we marketed ourselves to Australia.
Comment below about your experience of bungy jumping!
What was the most enjoyable part of the presentation?
What was the most enjoyable part of your whole trip?
By: Amy Taylor @ 13:22:30 -
---
Friday, 20th September 2013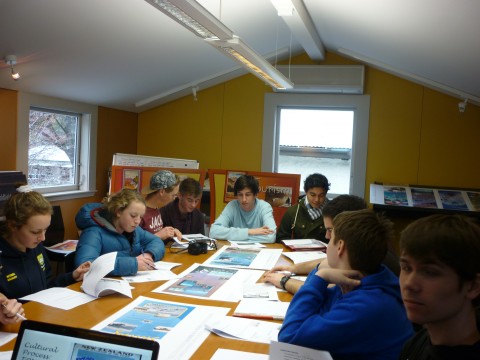 Sitting warm in our Conference Room!
I collaborated with Destination Queenstown to give our Bayfield students a comprehensive presentation covering tourism in Queenstown! With our new A3 information sheets on display around the conference room, these students had ample opportunities to glean information from a variety of sources. Half way through the presentation, I played a short tourism video from the 1980's which all the students enjoyed as well! There is nothing like a blast from the past, especially when it involves shoulder pads and boppy music! Because you enjoyed that video so much, I've included another one in this blog too. Read through my other blog postings to see all the other old Tourism videos I have linked up!
Do you think you would have a go on Fly By Wire if it was still available?
How many of you went Bungy Jumping?
Comment about your trip below!
By: Amy Taylor @ 09:35:30 -
---
Friday, 20th September 2013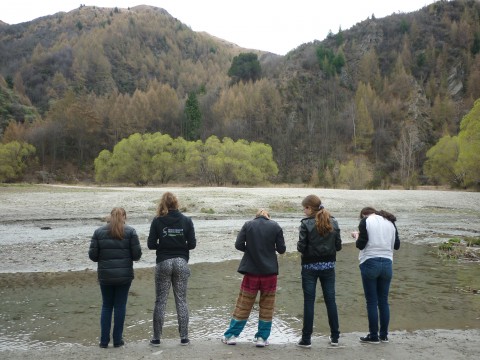 Gold Panning
Year 9 students from James Hargest came up for the day to learn more about the Chinese Settlers!
We had a day of gold panning and tours of the Chinese village, which ended with a Museum visit. With work sheets specifically designed for students to work on throughout the day, these students had an information overload! We even had a gold prospector turn up and show us his own methods for gold panning, which helped one girl find about 6 specs of gold!!!
Watch this great video which has some short clips from the film Illustrious Energy, which is based on the hardship the Chinese Settlers experienced in Central Otago!
What was your favourite part of your visit to Arrowtown?
Do you think the Chinese settlers found it difficult to make New Zealand their new home? Why?
Comment Below!
By: Amy Taylor @ 09:14:42 -
---
Monday, 16th September 2013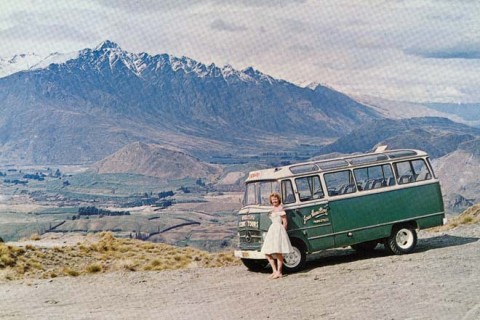 Driver Joan Hamilton poses beside her tourist bus, north of Queenstown, in the early 60's. TeAra Encyclopedia, Alexander Turnbull Library.
After listening to Senior Constable Beth speak about the social effects of tourism in Queenstown, Waitaki girls came over to the Lakes District Museum & Gallery. Working with our updated work sheets and presentation in the conference room, the year 13 students were fully immersed with knowledge about temporal and spatial variations for tourism in Queenstown. They also learnt about the 3 distinct periods of tourism in the Queenstown area and the activities associated with each of them. Here's a video on youtube from a marketing campaign in the 60's - its about an Australian girl who comes over for a skiing holiday. It's definitely worth a watch with a naughty wee twist at the end! Comment below if you enjoyed the video, or about what extreme adventure activity you would like to try!
By: Amy Taylor @ 15:48:29 -
---
Friday, 13th September 2013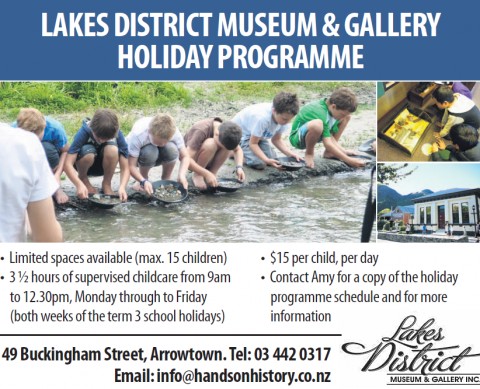 Term 3 School Holidays are coming up, and the Lakes District Museum & Gallery has some great things planned for some holiday fun!
Contact me as soon as possible to make a booking as we only have 15 spots available each day!
Join in on the fun with the great activities we have on offer:
Gold panning
Face painting
Creating a construction city
Watching DVDs
Paper airplane making
Floating paper boats down the Arrow river
Chalk art
Scooter and bike trick competitions at the Skate Park
Old fashioned school games
And a treasure hunt!
Call me on 03 442 0317 or email [email protected] to make a booking today!
By: Amy Taylor @ 12:36:13 -
---
Thursday, 12th September 2013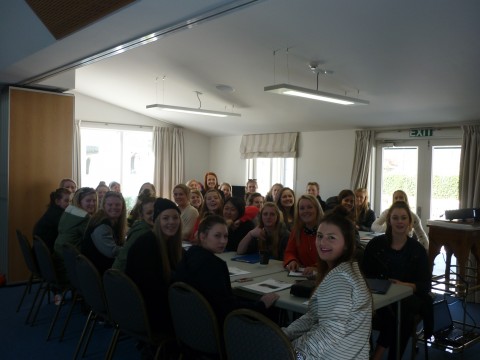 Looking happy after a long presentation!
Year 13 Geography students from Craighead came to visit on a sunny Arrowtown day. After the thunder storms we had earlier this week, the weather cleared in time for this large group of students. We did our usual geography presentation for the girls at the local community church hall, where everyone enjoyed its modern facilities. Everyone got a kick out of hearing about Fly by Wire and the other more extreme tourism activities that cropped up during period 3 (1980's to present).
During the presentation the girls watched a short clip on some 80's tourism promotional marketing for the Queenstown area, which really showed off the extreme 80's hairstyles and fashions! Here's another link to another promotional video marketing NZ to an older generation in the 70's - watch it now!
After the presentation our Museum and gallery facilities were made available to the students where we had photographs by Grahame Sydney on display, as well as some extra tourism panels for students to glean more information from.
Thanks for coming to visit girls - comment below about what aspects of the presentation OR Arrowtown you enjoyed while you were here!
By: Amy Taylor @ 14:27:27 -
---
Thursday, 12th September 2013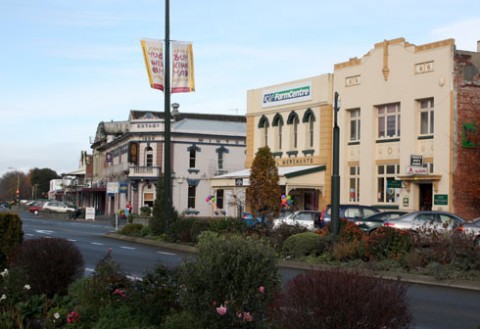 Central Southland College is in Winton
Denise, one of our educators, took the reigns with Central Southland College yesterday as I was busy exploring nature and the signs of spring with the Arrowtown kids. Central Southland College has been visiting for quite a few years now, just to experience our great Geography/tourism presentation.
These year 13 students got to be the first to experience our updated worksheets for students, which is more streamlined and has a more modern layout.
After the presentation, students used large information placards and posters displayed in our conference room on the history of tourism to gain even more knowledge!
Comment below about the aspects of the presentation you enjoyed, and what you think of our new worksheets!
By: Amy Taylor @ 10:01:23 -
---
Monday, 9th September 2013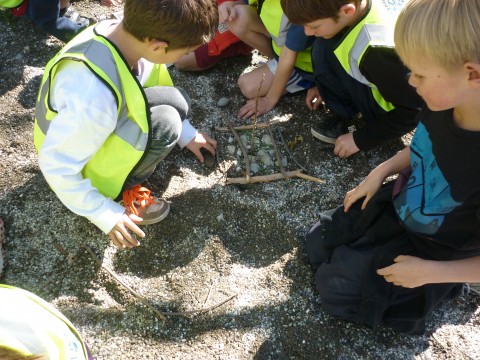 Creating stone sculptures
With the Arrowtown spring flower show on the 20th September, we have had Arrowtown juniors coming in to discover the signs of spring and some local flowers.
Everyone is now a nature expert, as students learnt the differences between the 4 different seasons and why plants look certain ways in different seasons. Walking through the Chinese settlement; students could smell the blossoming flowers, see the new green shoots on the Willow trees, and hear the birds chirping in the sunshine.
Stone sculpture competitions were held near the end of the walk, so students can be prepared for their sand saucer and sand cup displays for the flower show.
Who can tell me what the Museums favourite flower is?! I'll give you a hint - it can be used as a fairy's toothbrush!
Who saw the birds nest up high in the tree on the walk?
Comment below with some names or descriptions of the plants you saw on our spring walk, or tell me about your favourite thing from the spring walk!
By: Amy Taylor @ 16:44:19 -
---
Friday, 6th September 2013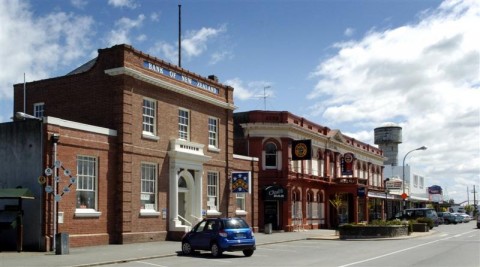 Great North Rd in Winton
Year 6 kids from Winton School experienced the wrath of Miss Gray yesterday! Decked out in full costume, it was a frightening experience of an 1800's schoolroom!!
Luckily, Miss Gray did let them out of the classroom to do some of the other activities we have on offer through the Museum. These activities were a historic walk, a tour of the Chinese village, a museum visit, and of course gold panning.
Winton has some of its own very old buildings, just like Arrowtown. You could all do a historic walk of your own town and comment below about some of Wintons history and historic buildings!
It was great having you visit Winton kids!
By: Amy Taylor @ 09:54:52 -