Latest News Blog
Friday, 11th September 2015
---
Craighead Comes for a Visit
Thursday, 12th September 2013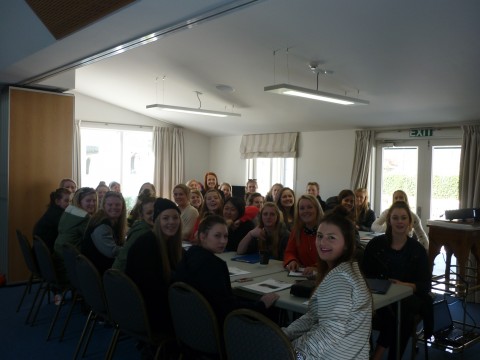 Looking happy after a long presentation!
Year 13 Geography students from Craighead came to visit on a sunny Arrowtown day. After the thunder storms we had earlier this week, the weather cleared in time for this large group of students. We did our usual geography presentation for the girls at the local community church hall, where everyone enjoyed its modern facilities. Everyone got a kick out of hearing about Fly by Wire and the other more extreme tourism activities that cropped up during period 3 (1980's to present).
During the presentation the girls watched a short clip on some 80's tourism promotional marketing for the Queenstown area, which really showed off the extreme 80's hairstyles and fashions! Here's another link to another promotional video marketing NZ to an older generation in the 70's - watch it now!
After the presentation our Museum and gallery facilities were made available to the students where we had photographs by Grahame Sydney on display, as well as some extra tourism panels for students to glean more information from.
Thanks for coming to visit girls - comment below about what aspects of the presentation OR Arrowtown you enjoyed while you were here!
By: Amy Taylor @ 14:27:27 -