Latest News Blog
July 2014
---
Monday, 28th July 2014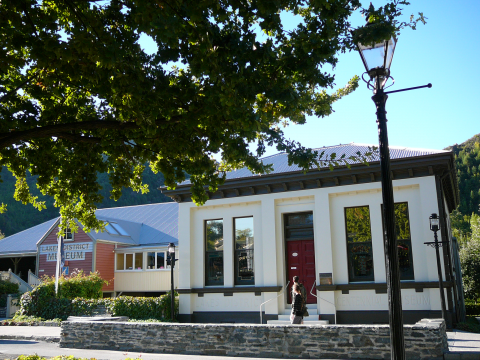 The Museum includes an Old Bank of New Zealand building which is now protected by the RMA
Kavanagh College visited the museum first thing on this chilly Monday morning. Luckily, our conference room was nice and warm inside.
The reason these 28 year 13 students were visiting the museum was to gain more knowledge about the development of tourism in this area. During the hour long presentation, we discussed the three different periods of tourism in the area as well as the different tourist types. Technology, peoples perceptions, and marketing Queenstown was also included during the presentation.
The students were especially interested in hearing about how Queenstown dealt with historical preservation in the past when there was an extremely high tourism push. A few decades ago many historical buildings and locations were tampered with in the pursuit of tourism. Today, we now have the Resource Management Act to protect these cultural and natural sites as there is a better understanding about protecting our environment and heritage as it positively affects tourism too.
Do you think protecting our heritage and environment is important? Why?
What are some factors that impact tourism negatively and positively?
How does Queenstown market itself?
Did you find the presentation useful?
Answer my questions and comment about your visit below!
Thanks Kavanagh College!
By: Amy Taylor @ 11:47:53 -
---
Tuesday, 22nd July 2014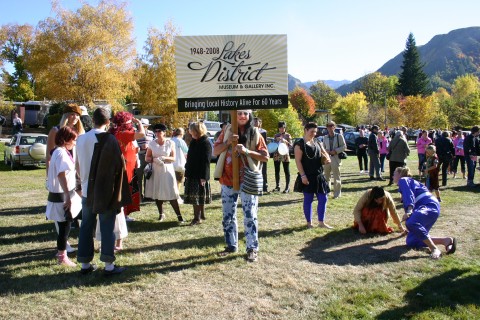 David our Museum Director dressed in full costume as a hippie for the Arrowtown Autumn Festival parade.
It is the first week into term 3 for the school year and there are a lot of exciting things going on at the Lakes District Museum and around New Zealand!
New Zealand has been celebrating Maori Language Week since 1975 - that is 27 years! Maori Language Week is a perfect time to celebrate our Kiwi culture, as Maori and English are the two official languages for New Zealand. Test your knowledge on Maori culture and language by visiting NZHistory Online to take their Maori Language Week quiz! Click this link to go directly to the quiz.
This week is also very special for another reason, as the 24th of July marks our Museum Directors 25th year of working at the Lakes District Museum - Congratulations David!
Comment below about your new Maori phrases that you will be trying out this week, or write a comment to congratulate David on his 25 years!
By: Amy Taylor @ 10:14:44 -
---
Friday, 11th July 2014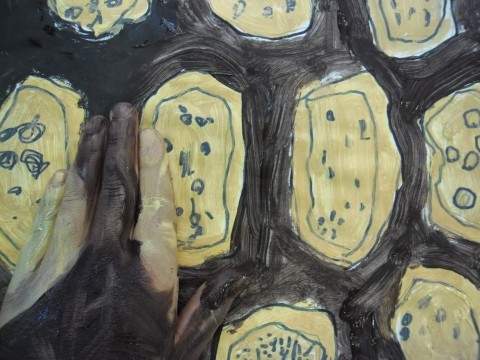 Tortise Shell
A wee while ago, I taught a camouflage art workshop at Arrowtown school, to help celebrate the WWI centenary which starts this year.
This has been a programme made available for extension art students at the Museum, but as a special treat I worked with two classes at Arrowtown school. The work they created looked absolutely fantastic, and was very high quality.
Click this link to check out their blog with their art work or click through the above gallery.
Did you create any of this fabulous work?
Have you been inspired to create camouflage art like this?
Comment on this blog and let me know your thoughts!
By: Amy Taylor @ 16:19:21 -
---
Wednesday, 9th July 2014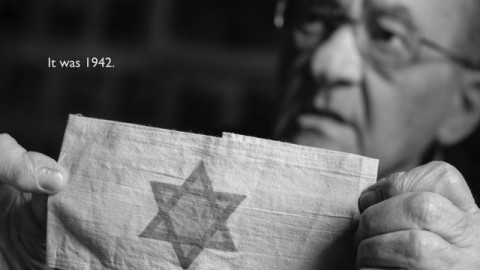 From the 8th of August until the 12th of October, the Lakes District Museum will be fortunate enough to host a very special exhibition called the Shadows of Shoah.
With just under a month until this exhibition opens, we have a few schools who have already booked in to view this brilliant exhibition which focuses on the holocaust and WWII. Shadows of Shoah is an exhibition which has been designed to target a new generation of young people through a brief but compelling format of short films. Screens to showcase this footage will be housed within a circular enclosure inside our gallery. As visitors step inside the enclosure, motion sensors are triggered, which allows short video clips to begin playing. There are 7 films in total, each one is 3 minutes long, giving the total viewing time for the exhibition about 21 minutes. These films feature holocaust survivors speaking about their experiences as children during WWII.
Contact the Lakes District Museum & Gallery today to book your students in to view this exhibition. With the WWI centenary beginning this year, this exhibition is worth visiting as some historians argue that the events of WWI led onto the catastrophic events of WWII. This exhibition would also link well with more general war related themes such as peace and conflict, remembrance, as well as causes and effects.
email: [email protected]
Phone: 03 442 0317
Or to learn more about this momentous exhibition click this link to visit the Shadows of Shoah website.
By: Amy Taylor @ 11:17:23 -
---
Friday, 4th July 2014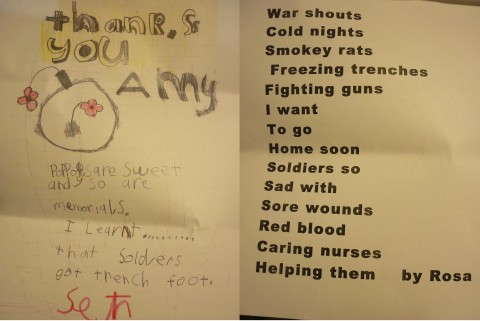 Thank you messages and creative poetry about trench life
As many of you are aware, the Lakes District Museum & Gallery has been providing LEOTC programmes related to the WWI centenary which begins this year.
One popular programme has been our War Heroes programme. War Heroes is a newly developed 2 hour programme for year 3 - 6 students. The programme focuses on introducing students to WWI war heroes from the Wakatipu region during a museum visit which includes viewing war medals and trench art. The programme also involves a short walk up Soldiers Hill to view the Arrowtown war memorial and Turkish Field Gun on display.
Local schools from the Queenstown area have booked into this programme to enjoy this special learning experience outside the classroom. Queenstown school especially seemed to be very inspired by their visit to the Museum and about the topic of WWI. Click through our photos to view creative writing inspired by trench life, memorials, and the visit to the Lakes District Museum. Photos also include well-written thank you messages, and some fantastic class work that has been achieved at school since the students visited the museum.
Keep sending us your thank you messages, and keep posting on our blog - we love hearing about your experiences with the Museum!
If you want to learn more about WWI, the Lakes District Museum & Gallery will be hosting WWI and The Wakatipu exhibition later this year (23rd October 2014 - 15th February 2015).
This interactive exhibition will include historical artefacts relating to WWI as well as personal histories and stories related to the Wakatipu region during WWI. DO NOT MISS OUT! Book a visit for your year 1 - 13 students, LEOTC programmes will be 1 hour and 30minutes and will include viewing the exhibition. Contact the museum today to learn more:
EMAIL: [email protected]
Ph: +64-3-442-0317
Do you recognise any of this fantastic work inspired by the WWI heroes programme?
Have you already visited the WWI heroes programme? Did you enjoy it?
If you haven't been involved with the WWI heroes programme yet, would you like to be?
Answer my questions and comments about this blog post below!
By: Amy Taylor @ 10:31:59 -
---
Wednesday, 2nd July 2014
This video is the first in a series of videos which promotes Air New Zealand's direct flights to South Island ski fields from Sydney, Melbourne, and Brisbane. This video features three men in matching pom pom beanies and jerseys being heli-dropped onto Isobel Glacier.
Do you think this video is successful in promoting NZ and Queenstown as a winter destination?
How does it reflect cultural perceptions of New Zealand? (Consider the humour in the video).
Let me know what you think about the video and comment below!
By: Amy Taylor @ 16:05:16 -