Latest News Blog
February 2012
---
Tuesday, 28th February 2012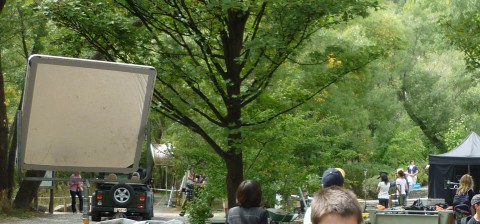 Cannington school camp comes to Arrowtown
A film crew wasn't going to stop Cannington students from panning for gold in the Arrow river today! Most students struck it lucky and found some gold - those that didn't - don't dispair that's what most of the miners felt every day....and remember you can always come back...!
Students also experienced a 1880s classroom with Miss Gray! the Chinese village, the old Gaol, Saint Mary MacKillop's cottage and had time to explore our Museum....did you all find the lavatory???
We hope you had a good time...please post us a blog about your visit!
By: Hands on History @ 15:50:47 -
---
Monday, 27th February 2012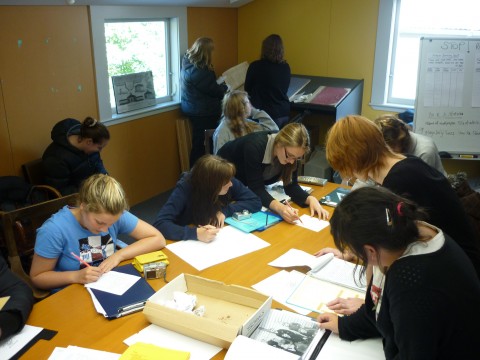 Action in the Archives!!!
Last Friday saw 20 Year 12 History students from Waitaki Girls spend a day in our archives searching for sources of information from 1860 - 1890. The Lakes District Museum houses over 4,000 photos, microfilms of old newspapers, oral histories, town planning doucments, births, death and marriage records as well as many rare and unique New Zealand history books.
Students had many different focusing questions to answer on topics such as the Chinese miners, life for women on the goldfields and law and order. To break up the research day students also went to the Chinese village to see 'the real' Ah Lum's store and several other preserved Chinese huts. Some viewed the Miners' Cottages in Buckingham Street recently retored by the Arrowtown Trust.
We hope you enjoyed your visit to us Waitaki and that you managed to gather lots of historical knwoledge and information for NCEA 2.1 & 2.2!
By: Hands on History @ 09:43:05 -
---
Wednesday, 22nd February 2012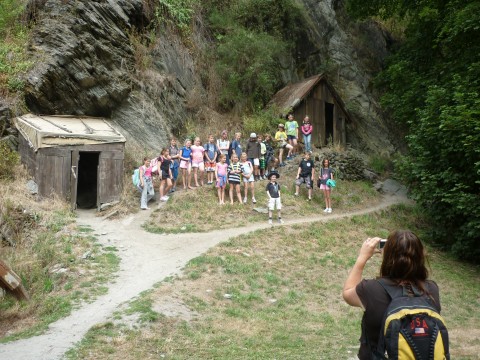 "Say chesse!"...or should it be chopsticks!
Makarewa Year 6 students spent a day and a half exploring Arrowtown's history during their annual school camp. Students experienced Miss Gray's classroom, were locked up in the Old Gaol, compared life in the 1800s with life today, examined artefacts, panned for gold as well as exploring the Chinese village. Here they learnt about the life of the Chinese - the small one roomed huts they lived in, the clothes they wore and the food they ate.
We hope you enjoyed your visit to us and look forward to hearing about it on this blog!
By: Hands on History @ 15:41:41 -
---
Friday, 17th February 2012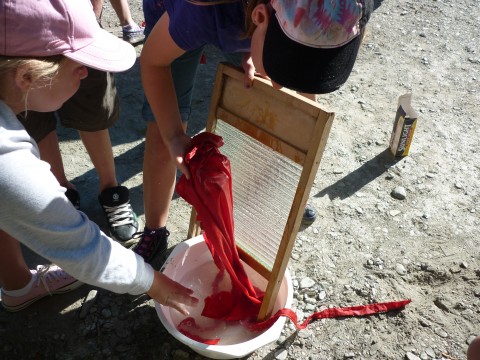 Washboard wizardry!!!
THANKS SO MUCH ST GERARD'S SCHOOL IN ALEXANDRA FOR BEING GREAT 1880s CHILDREN!
This Thursday & Friday saw St Gerard's students face a series of activities all to do with life in the 1880s...
The Year 5-8s had to complete a series of challenges including making butter, ragmats, hand washing clothes in the river and even digging a LONG DROP! They also visited the Chinese village and learnt about the hardships these miners faced during their time on the goldfields.
The Year 1-4s participated in a class with the new 'Miss Gray'! Most students were very well behaved and now we all know what happens to those who misbehave.....! Students also visited Saint Mary MacKillop's cottage and played schoolyard games from the 1800s.
Thanks for the blog post already Room 4 - hope more of you will write comments soon!
By: Hands on History @ 15:48:19 -
---
Wednesday, 15th February 2012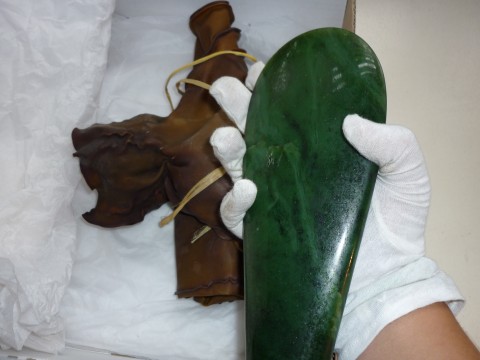 Makarora students get their WHITE gloves on!!
Yesterday, Makarora school students discovered the life of early Maori in the Lakes District through the 'hands on artefacts' timeline activity. Students learnt how Maori travelled inland to hunt and gather supplies, spearing Moa and native birds and searching for treasured Pounamu. Makarora students carefully examined (with thier white gloves on) a pōhā a bag made from blades of rimurapa (bull kelp). Maori used a pōhā on hnting trips to store food, as food preserved inside a pōhā can be kept safely for up to two to three years.
Students also experienced life as a child in the 1880s surviving Miss Gray's classroom and cane... making ragmats and butter which they sampled it on pikelets! They saw how the Chinese miners lived and explored the Chinese village. The day ended with a 'lock-up' in the old gaol!!
Makarora School we hope you enjoyed your visit to the Lakes District Museum - what was your favourite part?? post us a blog!!
By: Hands on History @ 08:57:40 -
---
Thursday, 9th February 2012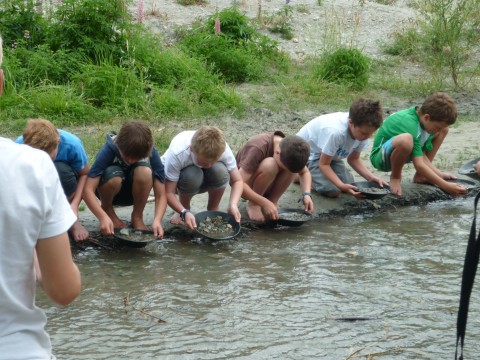 Riverton students trying their luck in the river...!
Hello! Riverton Primary Year 4, 5, and 6!! Hope you had a great school camp and a fun time @ the Lakes District Museum! Post a blog telling us (and others!!) what you liked the best about your visit to us? Was is the 'new' Miss Gray'?? Panning for gold...? What was the worst part? What else might you like to do if you came back?? Looking forward to hearing from you : )
By: Hands on History @ 14:08:50 -