Latest News Blog
April 2015
---
Tuesday, 28th April 2015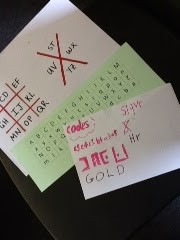 Codes!
We have a fantastic new year and during the school holidays we created TWO new programmes. These fantastic programmes grew out of much research. The team here at museum thought what can we offer the schools which is a) important to the area b) relevant to right now? What we came up with was follows:
COMMUNICATION:
Our new communication programme combined the centenary of WWI alongside the 100th birthday of our very own Post Office. These two were brought together under the concept of communication. Who was communication 100 years ago? How were they doing it? How did the war change it?
We had lots of fun talking about symbols and how they communicate a message to us with just a picture! We discuss the importance of coding and deciphering messages while having a go at a few fun ciphers.
The session ends with a communication treasure hunt through the museum! Lots of fun with a dash of friendly competition.
MĀORI IN THE SOUTHERN LAKES DISTRICT
Some of you might be thinking, didn't you used to have a similar programme? Yes! We sure did, but it had not been chosen in almost two years by schools and that screamed to us here FACE LIFT! So we completely redesigned the whole programme. We trialled using short (and interactive) power points with primary schools- something we usually reserved for much older high school students - and it was very successful.
We also broadened the scope of the programme to go right back in New Zealand's prehistory include how the first settlers got here (also when and why). We look at linguistics of the proto-Polynesian language tree and discuss how biology and oral history/traditions are strikingly similar across Polynesian - a massive area of over 200,000 km2 with thousands of different islands and cultural groups!
Finally this programme delves into what make Southern Māori unique? We discuss what had to changed for the Māori when they came to the deep, dark South (think snow, lakes etc.)?
| | | |
| --- | --- | --- |
| English | person/people | canoe |
| Hawaiian | kanaka | wa'a |
| Māori (NZ) | tangata | waka |
| Samoan | tagata | va'a |
| Tongan | tangata | vaka |
| | | |
By: Anneliese Stephens @ 15:54:52 -