Latest News Blog
June 2012
---
Monday, 25th June 2012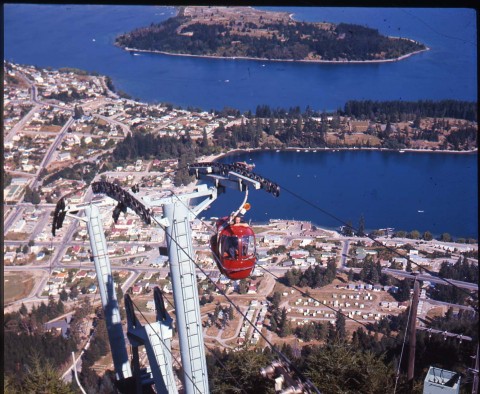 1967...and the arrival of the gondola!
Today, despite the slippery, icy roads Kavanagh College made it to the museum and listened to the talk on Queenstown's tourism.
A condensed version of the talk (as they need to depart to their next stop before the road became treacherous!) saw students hear about the spatial and temporal changes in tourism from the first Victorian era tourists to today's adventure seeking FIT's!!
We hope you learnt something from your quick visit and look forward to hearing some comments on this blog!
By: Hands on History @ 16:05:31 -
---
Thursday, 21st June 2012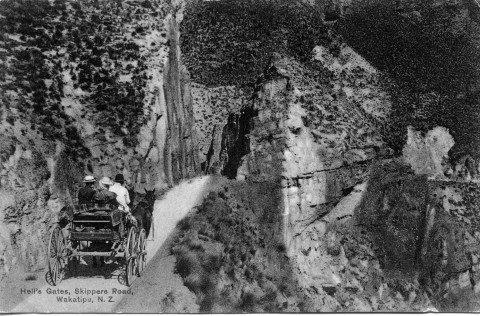 Early 'adventure' tourism...a coach jounrey in Hell's Gate, Skippers
Today, saw twenty seven Year 13 students from Southland Girls' squueze into the 1880s schoolroom and hear a talk on the 'tourism timeline' of Queenstown.
The talk supplemented by historic photos explained the spatial and temporal changes in Queenstown's tourism. Students completed a worksheet and a mapping exercise to illustrate these changes. Dividing progress into three periods students could also see the impact of tourists on Queenstown. As some commented tourism can be a double-edged sword, in some respects fantastic for the region - bringing in valuable $$$, but in other respects not so good - increasing visual and noise pollution....
We hope you all gained some valuable knoweldge for your NCEA Level 3 Geography course (tell us about your visit on this blog!) and wish you all the best for the rest of 2012.
By: Hands on History @ 15:23:36 -
---
Tuesday, 19th June 2012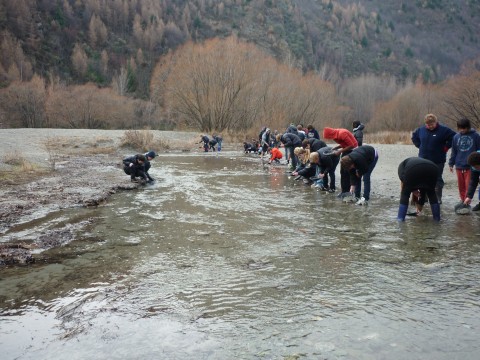 Hargest hunt for GOLD!
Today, saw the Year 9 students from James Hargest in Invercargill learn about the life of the Chinese miners. These miners were invited to the Otago goldfields in 1865 and came with the hope of making their fortune. They arrived with very little and wanted to work for a few years and then returning to China. Unfortunately, many never made it home.
Students heard oral histories, explored the museum and visited the Chinese village all to better understand the life of the Chinese. They also tried their luck at panning in the freezing Arrow River, just as the Chinese did over 140 years ago. Most students were very successful panners! Well done.
We hope you enjoyed your visit and look forward to hearing some of your comments.
By: Hands on History @ 15:09:44 -
---
Thursday, 14th June 2012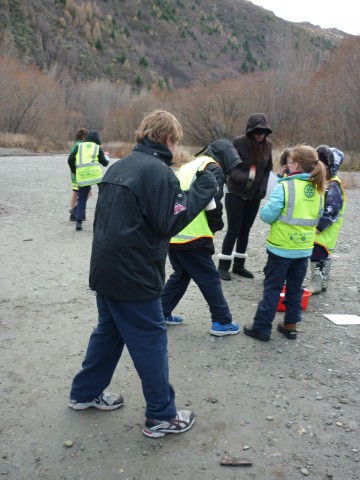 Arm sore yet?
Today IT SNOWED! only for five minutes but those five minutes just happened to be when the Year 5 St Joseph's students were about to get their hands wet in the freezing Arrow River as MINERS!!
Luckily, the students were wrapped up warmly (unlike many of the miners 150 years ago!) and they all survived the bitter cold. In fact some so well they found gold while others panned non stop for the full 45 minutes! Well done. Others made butter... the old fashioned way with a peg, a pottle of cream and ARM POWER!
Students also explored the museum looking at our many display's on all things GOLD! And they heard stories about several of the old buildings along Buckingham Street. They saw where a miner would tie up his horse, purchase his supplies, bank his gold, post his letter and even buy a beer!!
We hope you had a good time and look forward to hearing your comments on this blog!
By: Hands on History @ 15:17:54 -
---
Wednesday, 13th June 2012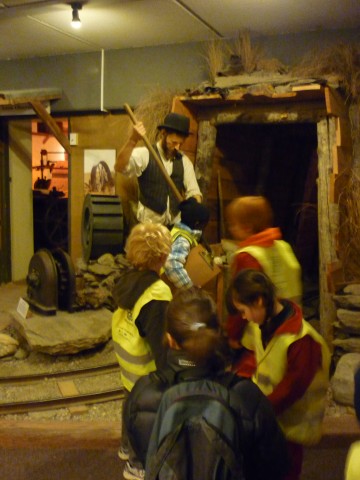 And what is this man doing?
Today saw 41 students from Remarkables Primary explore the museum to learn about the past! They came well prepared with lots of excellent questions including - when did horses and sheep first come to NZ? what did miners do with their gold? what did people eat?
Students also survived a class with the VERY STRICT Miss Grey! Would you want her as your teacher? They walked down Buckingham Street examining the old buildings and finding out what they were used for in the past, can you remember where you would collect mail from? or send a telegram? what colour the post and telephone boxes where? where might you leave your horse for the night?
We hope you enjoyed your visit to the Museum and look forward to hearing about it on this blog!
By: Hands on History @ 14:44:46 -
---
Tuesday, 12th June 2012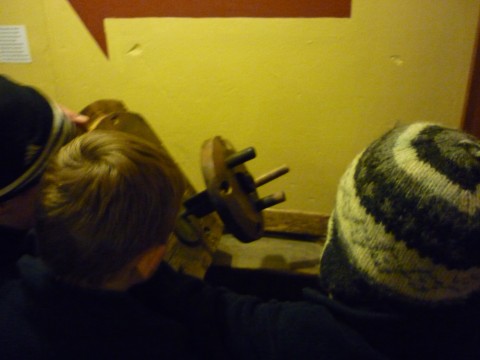 What does this do..?
Today, Omarama School drove over the Lindis Pass, through Wanaka and to us at the Museum!! The whole school from Years 0 - 8 came to participate in our 'GOLD' programme.
However, before they discovered gold they were faced with Miss Grey the 1880s school teacher!! Luckily, they were all very well behaved and survived her class....what did you think? would you like Miss Grey as your teacher everyday???!
Then it was onto the gold activities, split into Year groups they explored the museum completing specially designed worksheets about the goldfields. After lunch it was down to the river to mine! And do other jobs as well! Most students were luckily enough to find gold but those that didn't don't worry now you exactly how lots of the 'real' miners felt!! Miners in the 1860s could go days or even weeks without finding a THING! imagine that! And remember you can always come back and try your luck again!

We hope you had a good time here....we certainly liked having you! Tell us about your trip on this blog!
By: Hands on History @ 16:44:01 -
---
Friday, 8th June 2012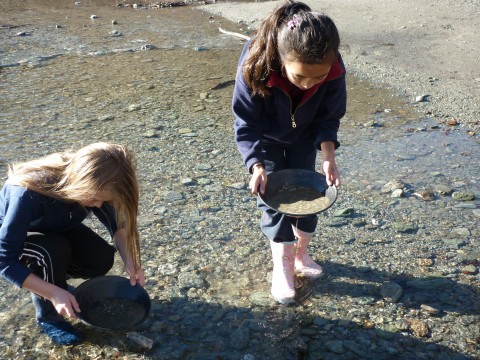 Anything there?
Today saw the Year 6 & 7s from St Joseph's tackle life on the goldfields. First stop was the museum looking at mining methods, features of gold and life in the late 1800s. Then it was shopping! as a miner of course! can you remember what magnetic liniment was? or where to check the Cobb & Coach schedule? What buildings have the same use today as they did during the goldrush???
After lunch students got 'hands on' and experienced first-hand many of the chores a miner would do during their day... Like making butter, washing and of course panning for gold!
We hope you had a good time and look forward to reading some of your comments on this blog!
By: Hands on History @ 14:18:29 -
---
Wednesday, 6th June 2012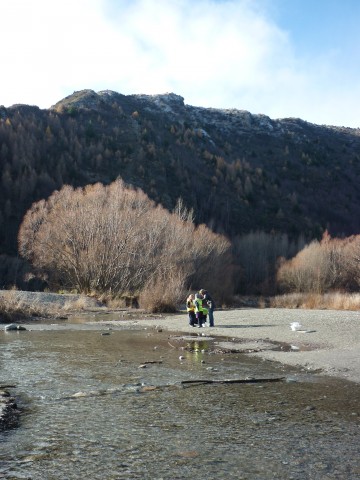 Dusting of snow....fails to deter....
.....................well... the snow on the hilltops surrounding the Lakes District Museum!!! The weather forecast was predicting snow and terrible weather but luckily only the hills received a 'dusting' and the sun shone over Arrowtown for St Joseph's Year 4 class visit.
The transit of Venus was the big event of the day but this failed to overshadow the task at hand for the students.....learning and experience life during the GOLD RUSH!
The first activity was inside and students armed with clip boards explored the museum completing a work sheet on all things GOLD! Then they ventured outside (and managed to negotiate the ICY steps!!) to hear stories about Buckingham Street buildings in the 1860s...can you remember where a miner would leave his horse for the night? or purchase his flour?
Lastly, with the sun still shining (but the river still FREEZING!) they really did experience the hardship and cold conditions endured by the miners.........Panning for gold, making butter, washing clothes and digging a long drop all at only two degrees above freezing!!!! WELL DONE!
St Joseph's Year 4s - we hope you have warmed up now and look forward to hearing your comments about your visit on this blog!!!!!
By: Hands on History @ 15:20:28 -
---
Friday, 1st June 2012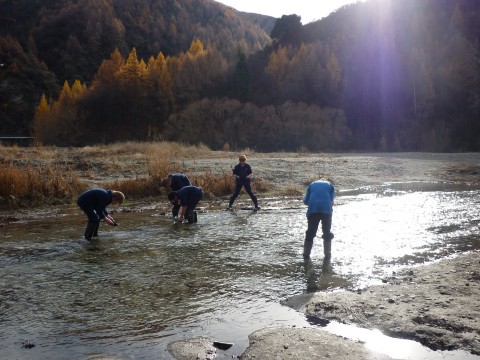 Beautiful day for panning!
Today was the first day of winter...frost was on the ground...and Clyde Year 7 & 8s arrived for their museum visit!!
Luckily the sun quickly came over the hill and the frost and frozen ground soon disappeared! Students completed a range of activties all linked to the GOLD RUSH! There was the gold detective in the museum looking at the different types of gold, mining methods and life on the goldfields. Then the Chinese village...exploring these small huts and imagining how difficult life must have been here..then there was the 'life as a miner' challenge! Students saw how LONG things took to complete and how much PEOPLE POWER was used!
Clyde senior students we hope you had a great time - we certainly did - hopefully you might come back and can write about your visit on this blog!
By: Hands on History @ 14:38:26 -