Latest News Blog
Friday, 11th September 2015
---
St Joseph's survive the snow..................
Wednesday, 6th June 2012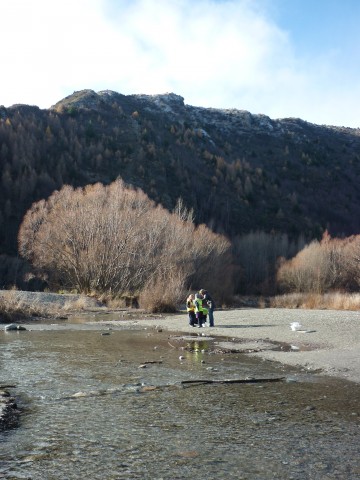 Dusting of snow....fails to deter....
.....................well... the snow on the hilltops surrounding the Lakes District Museum!!! The weather forecast was predicting snow and terrible weather but luckily only the hills received a 'dusting' and the sun shone over Arrowtown for St Joseph's Year 4 class visit.
The transit of Venus was the big event of the day but this failed to overshadow the task at hand for the students.....learning and experience life during the GOLD RUSH!
The first activity was inside and students armed with clip boards explored the museum completing a work sheet on all things GOLD! Then they ventured outside (and managed to negotiate the ICY steps!!) to hear stories about Buckingham Street buildings in the 1860s...can you remember where a miner would leave his horse for the night? or purchase his flour?
Lastly, with the sun still shining (but the river still FREEZING!) they really did experience the hardship and cold conditions endured by the miners.........Panning for gold, making butter, washing clothes and digging a long drop all at only two degrees above freezing!!!! WELL DONE!
St Joseph's Year 4s - we hope you have warmed up now and look forward to hearing your comments about your visit on this blog!!!!!
By: Hands on History @ 15:20:28 -