Latest News Blog
December 2013
---
Thursday, 12th December 2013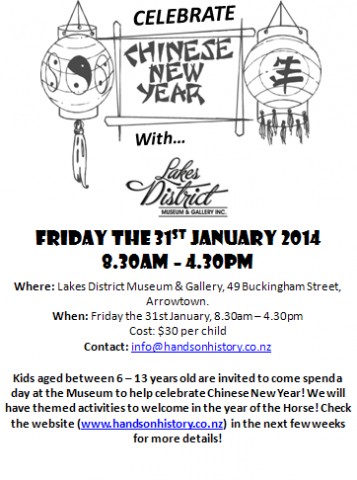 Where: Lakes District Museum & Gallery, 49 Buckingham Street, Arrowtown.
When: Friday the 31st January, 8.30am – 4.30pm
Cost: $30 per child
Contact: [email protected] or phone 442 0317
Kids aged between 6 – 13 years old are invited to come spend a day at the Museum to help celebrate Chinese New Year! We will have themed activities to welcome in the year of the Horse!
| | |
| --- | --- |
| 8.30 - 9.30am | Free time, team building, and name games |
| 9.30 - 10.30am | Making masks to welcome in the Year of the Horse |
| 10.30 - 10.45am | Morning tea and free time |
| 10.45 - 12.00pm | Exploring the Chinese settlement and learning local Chinese settler history |
| 12.00 - 12.30pm | Lunch time and free time |
| 12.30 - 1.30pm | Playing traditional Chinese games |
| 1.30 - 2.30pm | Making shuttlecocks and playing traditional Chinese shuttlecock games |
| 2.30 - 3.30pm | Gold panning at the Arrow river |
| 3.30 - 4.30pm | Afternoon tea, watching the well renowned NZ film Illustrious Energy (based on the hardships of Chinese miners in NZ), and colouring in competition. |
See you there!
By: Amy Taylor @ 15:19:35 -
---
Tuesday, 10th December 2013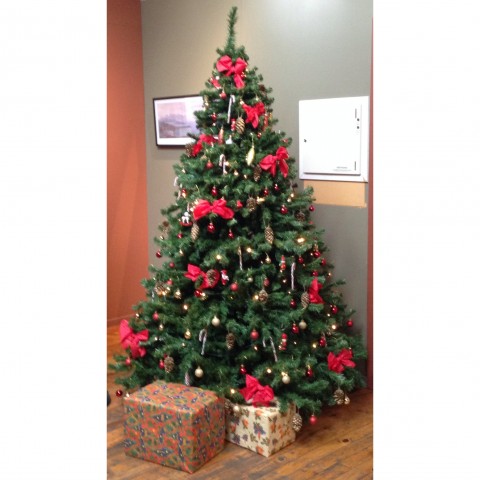 Our Victorian Style Christmas Tree
Who is looking forward to Christmas?!
Here is a fun Christmas Craft activity to do at home to celebrate Christmas...
CHRISTMAS HANDPRINT WREATH
You will need:
glue,
scissors,
red and green paint or construction paper (or any other colours you may like)

Instructions:
Trace your hand onto paper and cut out the prints. (try do it on two different coloured bit of paper like red and green)

Make eight handprints (4 of each colour).

Cut out the prints and glue to form a wreath.

You can decorate the wreath further with pictures (like snowflakes, reindeer or Santa Claus). These can be:

stickers!

hand drawn artwork

pictures from colouring books, magazines or fliers
How did your handprint Christmas wreath turn out?
Do you think this is a fun Christmas activity?
Answer my questions and comment below!
Merry Christmas everyone!
By: Amy Taylor @ 16:46:55 -
---
Wednesday, 4th December 2013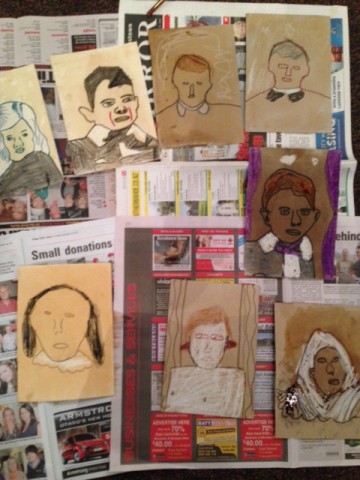 Waituna school kids came to visit us for two days here at the Lakes District Museum & Gallery.
These students probably came on the hottest days of the whole week - but that didn't stop them from learning!!
These were the activities we did together:
An 1880's school room experience with the terrifying Victorian School teacher called Miss Gray!
A big brainstorming session on how much education has changed over 150 years. We did this by reading quotes from students who have attended schools since the 1880's, looking at old photographs, and talking about what has changed or stayed the same.
We drew old fashioned portraits of children who went to Arrowtown school during the 1800's and early 1900's. We developed our investigating schools by looking at portraits and answering questions so we could understand how people used to live over 100 years ago.
We finished the first day by playing old fashioned school games in the street scape of the museum. This whole day made all the students truly understand what it was like for students over 100 years ago!
On day two we started the day with a Museum visit and handling artefacts like a Moa bone and Pounamu mere!
We visited the cemetery to understand more about living conditions for people over 100 years ago. We also learned new symbols, that people used to use to mark their graves.
A historic walk of Arrowtown after lunch allowed students to view the old Miners cottages, and get locked up in the Old Gaol! We learned about the different building materials used, and how difficult it used to be to build houses in Arrowtown.
A tour of the Chinese settlement really showed us how difficult the living conditions were for the Chinese settlers. We also learned alot about Ah Lums store... and his ghost...
The students finished their visit on a high note by gold panning at the Arrow river. We learned about Jack Tewa, who was the first to find gold in the Arrow river, and we also learned different panning techniques. Some students even found GOLD!
What was your favourite part of your visit?
Why was it so difficult to build houses in Arrowtown over 100 years ago?
What was Ah Lums job in China before he moved to New Zealand?
Do you think learning at school over 100 years ago was easy or hard? Why?
What was something new you learned during your cemetery visit?
When you created your old fashioned portraits, what do you think the kids in pictures might have felt like over 100 years ago?
Do you have any good stories to share about your parents or grand parents being caned?
Wow, what a busy two days we had together! I hope you enjoyed the rest of your camp Waituna!
Answer my questions and comment about your visit below!
By: Amy Taylor @ 16:22:34 -