Latest News Blog
Friday, 11th September 2015
---
The War Heroes LEOTC Programme Inspires!
Friday, 4th July 2014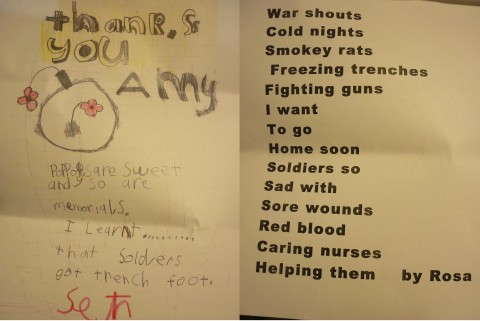 Thank you messages and creative poetry about trench life
As many of you are aware, the Lakes District Museum & Gallery has been providing LEOTC programmes related to the WWI centenary which begins this year.
One popular programme has been our War Heroes programme. War Heroes is a newly developed 2 hour programme for year 3 - 6 students. The programme focuses on introducing students to WWI war heroes from the Wakatipu region during a museum visit which includes viewing war medals and trench art. The programme also involves a short walk up Soldiers Hill to view the Arrowtown war memorial and Turkish Field Gun on display.
Local schools from the Queenstown area have booked into this programme to enjoy this special learning experience outside the classroom. Queenstown school especially seemed to be very inspired by their visit to the Museum and about the topic of WWI. Click through our photos to view creative writing inspired by trench life, memorials, and the visit to the Lakes District Museum. Photos also include well-written thank you messages, and some fantastic class work that has been achieved at school since the students visited the museum.
Keep sending us your thank you messages, and keep posting on our blog - we love hearing about your experiences with the Museum!
If you want to learn more about WWI, the Lakes District Museum & Gallery will be hosting WWI and The Wakatipu exhibition later this year (23rd October 2014 - 15th February 2015).
This interactive exhibition will include historical artefacts relating to WWI as well as personal histories and stories related to the Wakatipu region during WWI. DO NOT MISS OUT! Book a visit for your year 1 - 13 students, LEOTC programmes will be 1 hour and 30minutes and will include viewing the exhibition. Contact the museum today to learn more:
EMAIL: [email protected]
Ph: +64-3-442-0317
Do you recognise any of this fantastic work inspired by the WWI heroes programme?
Have you already visited the WWI heroes programme? Did you enjoy it?
If you haven't been involved with the WWI heroes programme yet, would you like to be?
Answer my questions and comments about this blog post below!
By: Amy Taylor @ 10:31:59 -