Latest News Blog
Friday, 11th September 2015
---
Maori Language Week
Tuesday, 22nd July 2014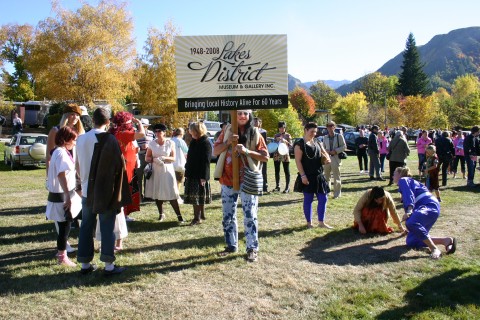 David our Museum Director dressed in full costume as a hippie for the Arrowtown Autumn Festival parade.
It is the first week into term 3 for the school year and there are a lot of exciting things going on at the Lakes District Museum and around New Zealand!
New Zealand has been celebrating Maori Language Week since 1975 - that is 27 years! Maori Language Week is a perfect time to celebrate our Kiwi culture, as Maori and English are the two official languages for New Zealand. Test your knowledge on Maori culture and language by visiting NZHistory Online to take their Maori Language Week quiz! Click this link to go directly to the quiz.
This week is also very special for another reason, as the 24th of July marks our Museum Directors 25th year of working at the Lakes District Museum - Congratulations David!
Comment below about your new Maori phrases that you will be trying out this week, or write a comment to congratulate David on his 25 years!
By: Amy Taylor @ 10:14:44 -