Latest News Blog
Friday, 11th September 2015
---
Tokomairiro Take up a Bungy Jump Challenge Too!
Friday, 20th September 2013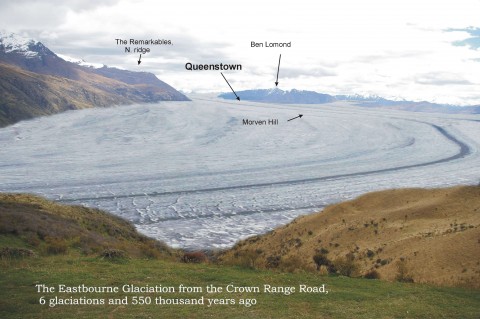 This is an image of the Crown terrace which has been photoshopped to show the extent of glaciation during the ice age!

The second booking we had for today was Tokomairiro, who also had students go for a bungy jump after the presentation! With these Geography students, we discussed how glaciation has made the Wakatipu region such a beautiful place to visit. This is because the glaciers dug out large chunks of the landscape which helped form our beautiful deep lakes. The glaciers also rounded out and smoothed our smaller, lower hills leaving them to aesthetically contrast with steep, sharp, mountains which remained untouched and unaffected by the glaciation. We also discussed social perceptions of Queenstown (such as it being a party town) which may have contributed to a higher crime rate than the rest of New Zealand.
The students really enjoyed a tourism video promoting Queenstown which was made in the 1960's. I have another video linked up below, which is marketing New Zealand to our Australian visitors. The video features some really groovey and psychedelic intro music, watch it below!
What are your social perceptions of Queenstown - comment about them below? - I want to know!
How did you enjoy your bungy jump? What would be the next adventure tourist activity you would like to try?
By: Amy Taylor @ 15:50:00 -