Latest News Blog
Friday, 11th September 2015
---
What are you doing for the School Holidays?
Monday, 30th September 2013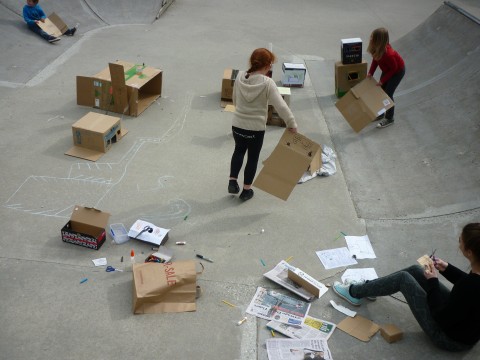 Construction City
We have had a full on start to the term 3 school holidays! Monday mornings session started with a Museum tour, a museum treasure hunt, paper plane competitions, and building a dam down at the Arrow river.
For Tuesday we built a construction city with old boxes. We also did some sports drills for team bonding, and finished our dam at the river. What do you think of our photos? The kids from the holiday programme took the photos!
Wheels Wednesday went off with a hit! We had scooters, bikes, roller blades, and even a skate board for the morning session! We had time trial races around the skate par before the rain chased us inside for an hour. But that didn't stop us having fun, as we dressed up in old fashioned costumes and played old fashioned school games. When the rain eased off we were back outside at the skate park for more action as well as some chalk art. We even squeezed in some time at the River to keep working on our holiday programme dam!
We spent Friday movie day watching Harry Potter and the Philosophers Stone and coloring in awesome pictures of Spongebob Squarepants, Angry Birds, and Batman!
In the second week, we spent the Tuesday creating chalk art and making origami paper boats to race down the Arrow river. We reenacted the America's Cup race, but this time New Zealand was the winning team! We also squeezed in some gold panning, and some inside Museum fun.
Thursday, the last day of the programme, we had so much fun painting our faces! We had kittens, vampires, snow leopards, Phantom of the Opera, the lead singer from Kiss, and a butterfly! We had a great time at the skate park playing games and doing team building exercises, before retreating inside from the rain to watch a movie called Illustrious Energy which is based on the hardships the Chinese miners experienced when they came to New Zealand.
I had a great time with you all and I hope you enjoy the rest of your holidays!!
Comment below about your favourite part of the holiday programme and why it was your favourite!
By: Amy Taylor @ 14:20:00 -