Latest News Blog
Friday, 11th September 2015
---
East Otago High School Pop in Before a Bungy Jump!
Friday, 20th September 2013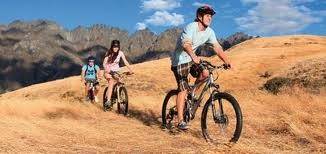 Cycle tracks around Central Otago are helping to create a new niche market of bike tourism
Today is a double whammy of geography bookings here at the Museum with East Otago High in the morning followed by Tokomairiro in the afternoon! There was rainy miserable weather outside, but inside the Museum and our conference room we were toasty warm! I usually play a short video during the presentation, but we were tight on timing this morning - so I hope you all watch this great tourism video I have linked below!
The extreme adventure activities part of the talk is always a highlight for students - and even more so today with East Otago, as some of the students were going to go for a bungy jump right after the presentation! During our talk we also talked about how a large proportion of our international visitors are from Australia! This has been happening since the 60's when Coronet Peak was first opened. The video below is a great example of how we marketed ourselves to Australia.
Comment below about your experience of bungy jumping!
What was the most enjoyable part of the presentation?
What was the most enjoyable part of your whole trip?
By: Amy Taylor @ 13:22:30 -