Latest News Blog
Friday, 11th September 2015
---
Aurora College Students Are Keen Learners!
Thursday, 26th September 2013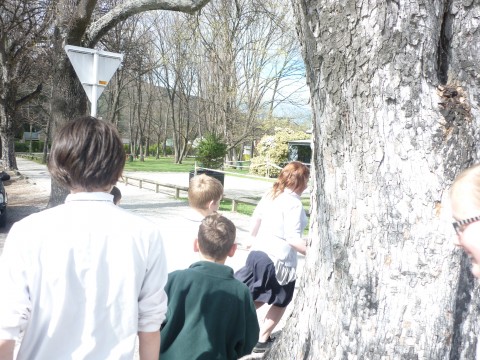 Skipping around Mary Cotters tree for good luck
Aurora College students drove up to spend a day with the Museum to learn about the hardships and challenges the early miners faced. They also came to the Museum to learn about the treatment of Chinese settlers some mining methods. So for their visit our activities included:
a museum visit which included handling a real Moa bone
A historic walk of Arrowtown where we saw the historic cottages the miners lived in and the Old Gaol!
A tour of the Chinese settlement and Ah Lums store
And a bit of gold panning (some students even found gold)!
We learnt that even though the Chinese settlers had been invited by the Otago provincial government they weren't welcome by the local European settlers. We also learnt about how industrious and hard working the Chinese were and how they eventually earned the respect of the local European settlers. Some of the students found gold when they went panning, while others didn't. Those students who didn't find gold truly learnt and understood about the hardships the early miners faced here in Arrowtown, as this gold was meant to be their livlihood and be able to support their families, so not finding any gold would've been a great disapointment.
Denise and I really enjoyed having all of you come spend the day with us and we hope you have a safe trip back!
Did you find gold?
What was your favourite part of the visit?
Can you remember the name of the person who first found gold in the Arrow river?
Comment below!!
By: Amy Taylor @ 15:47:22 -
---
Comments (6)