Latest News Blog
Friday, 11th September 2015
---
Bayfield Students are Brought up to Arrowtown
Friday, 20th September 2013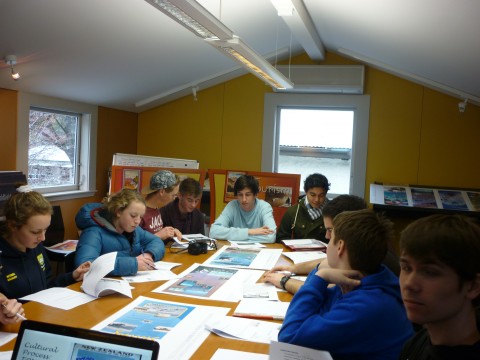 Sitting warm in our Conference Room!
I collaborated with Destination Queenstown to give our Bayfield students a comprehensive presentation covering tourism in Queenstown! With our new A3 information sheets on display around the conference room, these students had ample opportunities to glean information from a variety of sources. Half way through the presentation, I played a short tourism video from the 1980's which all the students enjoyed as well! There is nothing like a blast from the past, especially when it involves shoulder pads and boppy music! Because you enjoyed that video so much, I've included another one in this blog too. Read through my other blog postings to see all the other old Tourism videos I have linked up!
Do you think you would have a go on Fly By Wire if it was still available?
How many of you went Bungy Jumping?
Comment about your trip below!
By: Amy Taylor @ 09:35:30 -