Latest News Blog
Friday, 11th September 2015
---
Hawea Flat's exciting hands on history excursion!
Thursday, 8th March 2012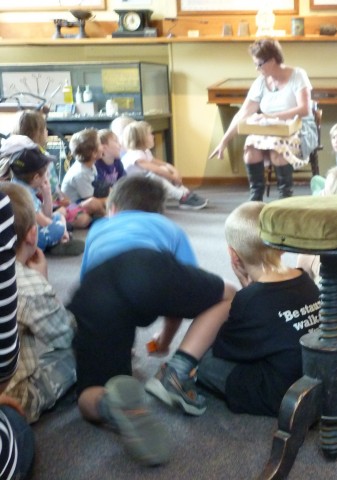 Hawea get 'hands on!!'
On Tuesday 6th March the museum staff welcomed the Hawea junior school. Like all Central Otago children they came well prepared for rain or sun; with hats, coats, drink bottles and huge lunches. What a great bunch of children they were, they listened carefully and asked great questions. For me the highlight of their visit was their reactions to the exhibits. One young man was agog at our under water diving suit and another was heard to utter, 'cool' when he came up to the gun display. The best thing about the Lakes District Museum is that it is a 'touch' museum. In many cases the children are encouraged to gently handle the exhibits, this makes their visit all the more memorable for them.
Hawea School were studying various aspects of gold and gold mining and so we looked at types of gold, we looked at how the miners got the gold out of the rivers and the hills, we looked at who came to Arrowtown to seek gold and how they got there.As well as visiting the museum we visited the Chinese Village where several lucky children got to dress up as Ah Lum. Finally the children went gold panning, some children even found their own gold. Well done Hawea School, I bet many of you had a big snooze on the way home.
Hopefully see you again soon - post a comment on this blog!
By: Wendy - Museum Educator @ 14:21:50 -
---
Comments (1)