Latest News Blog
Friday, 11th September 2015
---
St Theresa's survive a strict school room, shovelling, shaking and.......!
Friday, 23rd March 2012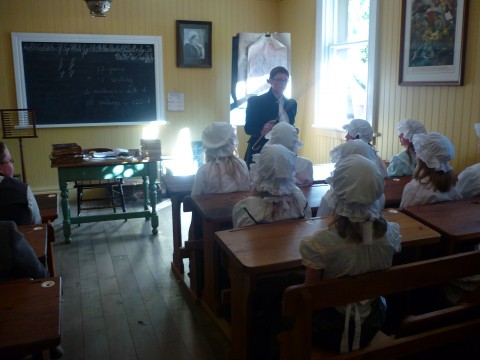 Now children....!
......life in the 1880s! This week the Lakes District Museum saw two seperate visits from different classes at St Theresa's school in Invercargill. We had a great time with you learning about life in the past and hope you all enjoyed yourself!
Wendy who took the class on Tuesday had this to report - "What a super smart bunch of children you all were. Some of your questions and answers took my breath away. Your teacher had taught you lots obviously but several children told me that they got their information by reading 'Horrible Histories! Your teacher told me you were avid readers, I could tell. I hope Miss Grey didn't scare you too much, she's not so bad really.Well I know you will be busy digging long drops and washing your clothes in the local river so I will sign off."
Rachel who had the class on Friday was very impressed with some expert 'digging' - lots of you must already help your parents in the garden!! She also thought you all could probably cope very well as 1880s students...as long as you remember the number one rule "silence is golden!". During the 'hands on artefacts' timeline activity some of your knowledge was amazing! and let's hope you all have plenty of good luck now you have skipped around the Mary Cotter tree!
We are already looking forward to seeing you next year. Post us a message on this blog! Kia kaha.
By: Hands on History @ 16:33:24 -