Latest News Blog
Friday, 11th September 2015
---
Arrowtown's amazement at water...!
Tuesday, 3rd April 2012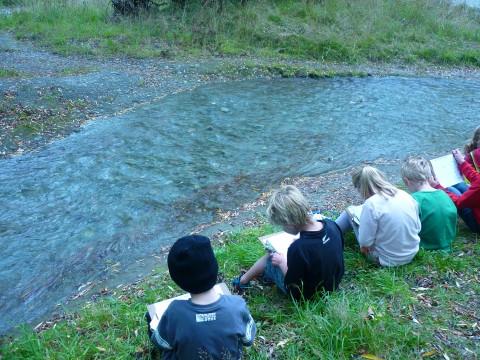 Field sketch skills!
Arrowtown Primary School's Year 3 & 4 students have spent the last few days at the Lakes District Museum on a 'water' unit. This unit was tailor made to fit with the Year 3/4 curriculum. Students explored the history of water in the area learning about water wheels, the Bullendale hydro electric power station, ice skating, the Shotover Jet and much, much more!!
Outside they completed three hands on acitvities - washing clothes in 1800s style with a wash board and icy river water; looking at what happens on a river bend and testing this with 'pooh sticks'; and finally purifying water with a handmade water filter!!
We hope you learnt lots Arrowtown and look forward to you coming back soon...let us know how what you thought on this blog!
By: Hands on History @ 16:25:46 -