Latest News Blog
Friday, 11th September 2015
---
QUEENSTOWN JUNIOR SCHOOL DISCOVER GOLD!
Monday, 30th April 2012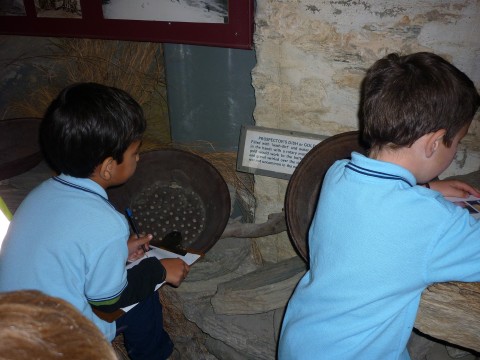 Detectives hard at work!
Today, saw the first of three visits by Queenstown Primary School's Junior classes - New Entrant to Year 2! Students spend the day discovering all about GOLD!
They managed to cope with the cool start and were all wrapped up warm for the street walk...exploring modern day Buckingham Street and imagining what it might have been like when miners lived here!
They were fantastic at the treasure hunt for clues about gold in the museum and excellent miners in the COLD Arrow River!!
We hope you had a good time...we certainly enjoyed having you here and hope to hear about your visit on this blog!
By: Hands on History @ 16:46:39 -
---
Comments (2)