Latest News Blog
Friday, 11th September 2015
---
St Kevin's seek tourism info...
Monday, 6th August 2012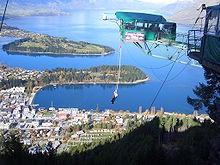 QT today....
Today...St Kevin's Year 13 Geography class learnt about tourism in the Queenstown area. After managing to 'squueze' into the 1880s schoolroom they tracked tourism from the first 'eco-tourists' of the 1880s to the adventure seeking tourists of today.
Using maps they plotted the spatial variation and changes over time. They also heard about DQ's(Destination Queenstown) role in promoting and monitoring tourism in the area.
We hope you found the information valuable and wish you well for your exams at the end of the year!
By: Hands on History @ 16:31:31 -