Latest News Blog
Friday, 11th September 2015
---
Mary MacKillop and Making Butter
Monday, 1st July 2013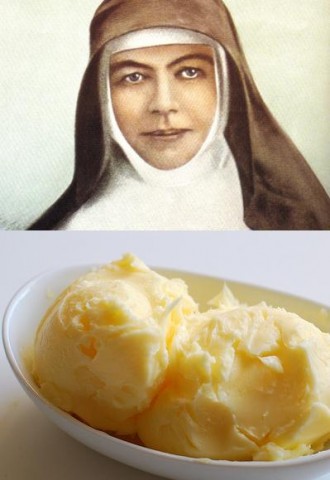 I have been thinking about Saints and Butter... a very unusual combination, unless you're visiting the Lakes District Museum & Gallery!

A school is coming to visit next week and I am very excited because we are planning a learning experience which is "Mary MacKillop's School Room"!
For those of you who don't know about Mary MacKillop - she was a Nun who came to Arrowtown in 1897 to teach at the Catholic Church School, and was canonized in 2010 by Pope Benedict XVI. That means she is now a Saint!! A Saint came to Arrowtown!
People today can still visit the cottage Mary MacKillop stayed in, which is right beside the Catholic Church in Arrowtown
I have also been thinking about butter. Winter always makes me think of food! Luckily, we have a learning experience here at the Museum, where you get to make butter (and eat it!) just like people in Arrowtown did in the late 1800's. It is a pretty cool activity as it has Nature of Science and Social Sciences links, but you don't even realise you are learning because it is so hands on!
Comment below if you have ever thought up an odd combination like I have today, and let me know what it was!
By: Amy Taylor @ 14:15:35 -