Latest News Blog
Friday, 11th September 2015
---
Mt Roskill Really Know How to Learn!
Friday, 23rd August 2013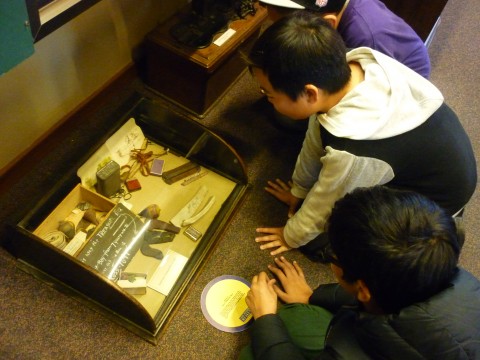 Looking at a boys treasure chest
We had some Year 7 and 8 students come all the way from Auckland to visit us!
Learning about the hard weather conditions these early settlers faced, was something new for these North Islander kids, as the weather is much warmer up in Auckland! We looked at some real artefacts which included a Moa bone, a pounamu mere, and early mining and farming tools. Then everyone split into smaller groups to explore the Museum. One group discovered a display of objects that was from a young boys treasure chest from a long time ago. There were wooden spinning tops inside, small pebbles, and a coloring book.
Maybe if you start collecting some things now, some one might look at your treasured items in a Museum in the future!!!
We finished the visit with some gold panning at the Arrow river. I think we found a lucky spot, as some of the students found GOLD!
Comment below if you saw the secret passageway with the hidden safe! Enjoy the rest of your trip Mt Roskill!
By: Amy Taylor @ 12:10:46 -