Latest News Blog
Friday, 11th September 2015
---
ACG students come from Auckland for a visit!
Thursday, 24th October 2013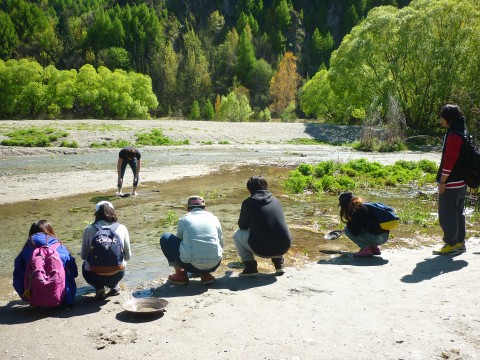 Gold panning at the Arrow River
We had 56 international students from ACG visit us from Auckland on Saturday the 19th of October! They were senior Geography students with a lot of knowledge already up their sleeves, but they were still keen to learn more here at the Museum.
We had our Museum Director David Clarke working with us for the day, so the students learned a lot from David's incredible knowledge of Arrowtown!
The students experienced:
A visit to the Museum which included handling artifacts
A historic walk of Arrowtown where students got to visit the Old Gaol
A tour of the Chinese settlement
And Gold Panning! Some students even found gold!!
Did you find gold on your visit?
What was your favourite part of your visit to the Museum?
What do you think of Arrowtown?
Answer my questions and comment below!
By: Amy Taylor @ 16:26:29 -