Latest News Blog
Friday, 11th September 2015
---
Lumsden Primary Learn A Lot!
Friday, 25th October 2013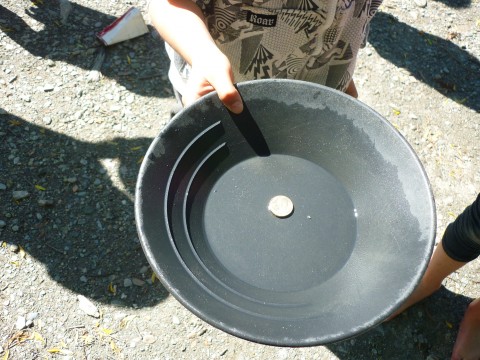 Someone found a dollar when they were gold panning!
42 students from Lumsden Primary traveled up to Arrowtown on Tuesday the 22nd of October to visit our Museum. All 3 educators (Wendy, Denise, and myself) worked the day to help provide the students a great learning experience! The students learned a lot doing these activities:
A terrifying lesson with Miss Gray in an 1800's schoolroom!
A historic walk of Arrowtown where we checked out old miners cottages and the Old Gaol
A tour of the Chinese settlement with a visit to Ah Lums Store
A Museum visit where we handled artifacts like a really old Moa bone
And gold panning at the Arrow River just like the gold miners did when gold was first found in 1862!
Miss Gray's school room showed us how difficult learning would've been a 150 years ago, with a strict teacher who liked to cane naughty students. While the historic walk showed us the small houses the miners families used to live in, with windows and doors that looked like a face. A tour of the Chinese settlement made a few people feel sad to think about how hard the living conditions were for those Chinese settlers living in Arrowtown, as they weren't welcomed by the European settlers. The Museum visit was really cool as we got to explore the different exhibits and learn a lot about how people traveled to the Wakatipu region and how the area has been used for hunting Moa, collecting Pounamu, farming sheep, gold mining, camping holidays, and growing grapes for wineries!
Were you scared in Miss Gray's classroom?
Why is the old Jail spelt as "Old Gaol"?
What is a fact you remember from your museum visit?
Did you find gold in the Arrow river?
Answer my questions and comment below!

By: Amy Taylor @ 11:23:53 -