Latest News Blog
Friday, 11th September 2015
---
Tisbury Turn Up At The Lakes District Museum & Gallery
Wednesday, 30th October 2013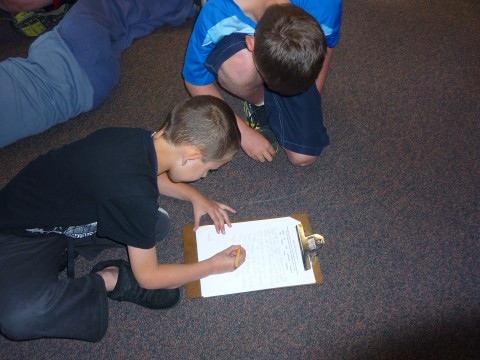 Writing our letters!
11 Students from Tisbury School visited the Lakes District Museum & Gallery in the Afternoon!
We started the afternoon off with a scary 1800's lesson with Miss Gray. This was followed by a tour of the museum, handling some artefacts, and then students doing some worksheets which focused on being a gold detective. At the end of the day, we all went gold panning and every single student found gold! WOW!
All the students really enjoyed a part of their worksheets where they had to write a letter about the difficult living conditions the early settlers and miners faced in Arrowtown. Everyone was inspired by all the history they had just learned, so everyone wrote lots!!
What is a long drop?
What is a butter churn?
Do you think learning was easy or hard in the 1800's and why?
Can you post a comment with a small example of what you wrote during the museum session?
Answer my questions and comment below!
By: Amy Taylor @ 13:36:11 -