Latest News Blog
Friday, 11th September 2015
---
Bluff School Enjoy a Sunny Afternoon!
Thursday, 7th November 2013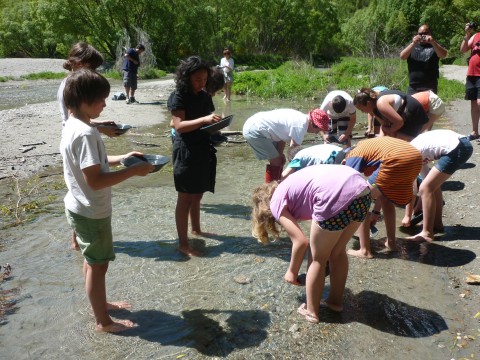 Gold panning at the Arrow River
35 kids from Bluff School traveled to Arrowtown to visit the Lakes District Museum & Gallery.
Denise and myself ran the visit by splitting the students into 2 small groups. Denise enjoyed the sunshine, by taking the students gold panning. Everyone was sun smart by wearing suncreen, and sunglasses. The Arrow River was a great way to keep everyone's feet cool on such a hot afternoon! During the gold panning session, the students learned how to pan for gold, and about Jack Tewa who was the first person to find gold in the Arrow river. Some kids were lucky enough to find gold!
I ran the 1800's school room with Miss Gray. Students wrote with chalk and slate boards whilst wearing 1800's costumes. It was a great way for everyone to learn about how much education has changed over 150 years!
Did you find gold?
Do you think it is easy or hard to find gold? Why?
Do you think it was fair that students used to be caned at school?
Were you scared of Miss Gray?
Answer my questions and comment below about your visit to Arrowtown!
By: Amy Taylor @ 16:09:36 -