Latest News Blog
Friday, 11th September 2015
---
Clutha Valley Kids Keep Learning!
Thursday, 21st November 2013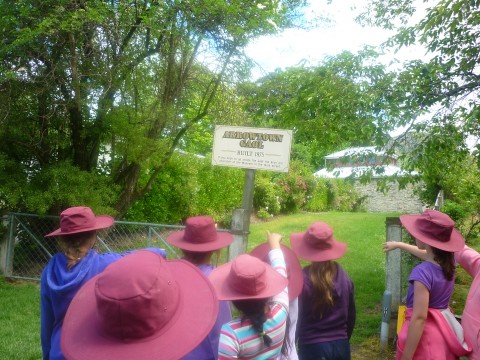 Checking out the Old Gaol
A class of Clutha Valley kids visited the Museum on Thursday. They were all very inquisitive and asked fantastic questions!
When the Clutha kids came to visit us at the museum they got to experience a whole lot of fun! Our day was filled with:
A museum visit
A tour of the Chinese settlement
A scary experience with Miss Gray, and a naughty young student called Isobel!
A historic walk of Arrowtown to check out the Old Gaol
And some gold panning!!
What did the New Zealand Govt. do to the Chinese settlers to stop them immigrating into the country?
How do we spell "Gaol" today?
What was the type of gold we found in the Arrow river?
What did students used to get the cane for in the 1800's?
What was your favourite artefact that you got to handle?
Answer my questions and comment below about your visit to the Lakes District Museum & Gallery!
By: Amy Taylor @ 14:34:38 -