Latest News Blog
Friday, 11th September 2015
---
Columba College Collect Knowledge!
Wednesday, 6th November 2013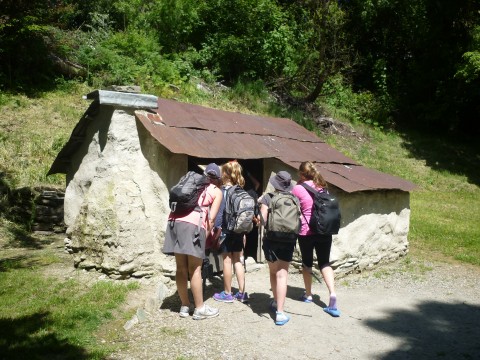 Checking out the Chinese Settlement!
46 year 7 girls from Columba College visited us at the Museum today! We were very busy with myself, and Wendy our other educator running the activities for these enthusiastic students!
The whole day was an information overload as students experienced a museum visit which included handling artefacts! The girls also had a historic walk around Arrowtown where we checked out the Old Gaol. The afternoon was spent with a tour of the Chinese settlement and some gold panning!!
It was a pretty special day, as during the historic walk I made sure students skipped around Mary Cotters tree 3 times for good luck so that it could help them find gold when we were gold panning... and I think it worked!
Why is Jail spelt 'Gaol' in Arrowtown?
What was Ah Lums hut made out of?
Do you think it is easy or hard to find gold?

What was one thing you learned about during your museum visit?
Answer my questions and comment below about your visit to the Lakes District Museum & Gallery!
By: Amy Taylor @ 16:19:10 -