Latest News Blog
Friday, 11th September 2015
---
Craighead Comes for a Visit!!!
Thursday, 14th November 2013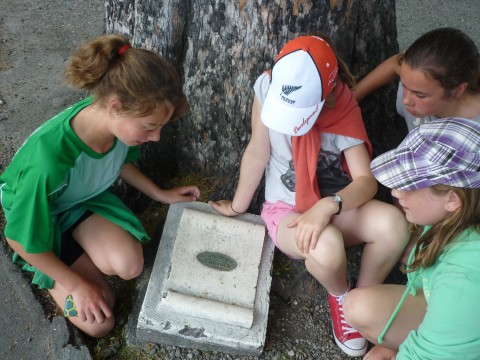 Checking out Mary Cotters tree
Year 7 & 8 students from Craighead School in Timaru visited us today! It was a jam packed day, with a bunch of activities in the Museum and around Arrowtown.
This is what we got up to:
A museum visit which included handling artefacts such as a Moa bone, Pounamu mere, an ostrich egg, and old miners tools. This helped us understand the different uses the Wakatipu region has had over the years.
A lesson in an 1800's school room with a horrible teacher called Miss Gray. Miss Gray was really and showed everyone how schools and education have changed over 150 years.
A historic walk of Arrowtown where we got to check out some old miners cottages, the Old Gaol, and Saint Mary MacKillops cottage. On this walk we discovered how people lived without technology and only a horse and carriage for transport.
A tour of the Chinese settlement was an enlightening experience for everyone, as the simple schist stone huts that remained really portrayed the difficult living conditions the Chinese experienced.
Gold panning in the Arrow river was the final fun thing we all did together! Everyone learned the different methods for gold panning and some students even found gold! (I wonder if the good luck from skipping around Mary Cotters tree 3 times had anything to do with it?)
What a fantastic day!
Do you think learning is easier now compared to 150 years ago? Why?
What naughty things would you do to be caned in an 1800's school room?
Why were there marks on Saint Mary Mackillop's cottage roof? What caused them?
Why did one of the cells in the Old Gaol have a fire place?
What were the huts made out of at the Chinese Village?
Why did the Chinese come to central Otago?
What new things did you learn in the Museum?
Answer my questions and comment about your visit below!
By: Amy Taylor @ 15:59:47 -