Latest News Blog
Friday, 11th September 2015
---
Diamond Harbour Students Have Fun at the Museum!
Monday, 4th November 2013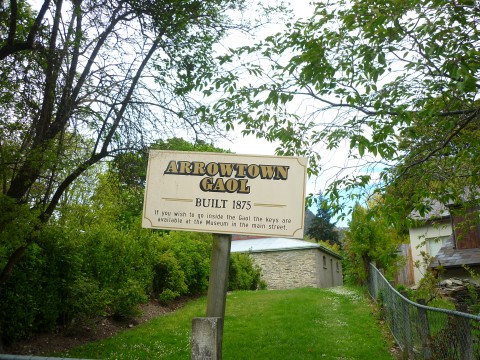 The Old Gaol!
Year 7 & 8 students from Diamond Harbour had a great time at the Museum today!
They started off their visit with a self directed exploration of the Museum. This was then followed by a scary lesson with Miss Gray! One poor boy even got the cane!!! (It was just pretend though)! This was followed with a historic walk of Arrowtown, where everyone got to see the old Miners Cottages, the Old Gaol, and St Patrick's Church. At St Patrick's church we talked about Saint Mary MacKillop - there was even a tourist at the church who shared a great story with us about a family friend who experienced a miracle which everyone though Saint Mary MacKillop caused! At the end of the walk everyone skipped around Mary Cotter's tree 3 times, which is said to bring good luck. The skipping must have worked, because after a tour of the Chinese Settlement we went gold panning, where a few students found gold!!!
What was your favourite part of your visit?
Did you find gold?
What were the Chinese settlers huts made out of?
Why is Gaol spelt differently? (It's usually spelt jail)!
Do you have a parent or grandparent who has been caned?
Answer my questions and comment below!
By: Amy Taylor @ 14:38:22 -