Latest News Blog
Friday, 11th September 2015
---
East Taieri Take Over Arrowtown!
Wednesday, 13th November 2013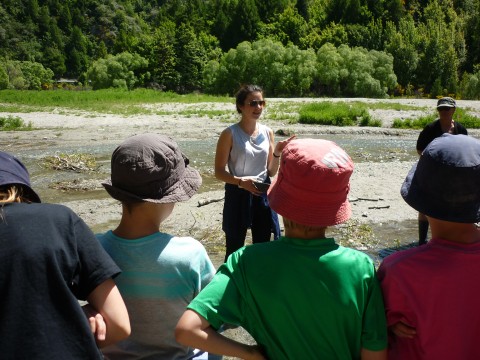 Learning how to gold pan at the Arrow river
East Taieri School sent 51 year 6 students to visit on their camp! It was a big group which meant we had loads of fun! Students were frightened out of their wits by a terrifying lesson with Miss Gray. The session really helped everyone understand how much learning has changed over 150 years. A museum visit in the morning was also on the schedule, during this visit students got to handle artefacts such as a Moa bone, and explore the museum. We ended the visit with gold panning. It was a perfect, hot, summers day for gold panning and lots of kids were really lucky and found some! One boy found about 4 specks of gold!!
Why were long drops built outside?
What did Miss Gray teach you?
What was one difference between Miss Grays classroom and your own classroom?
Why did the Maori travel to the Wakatipu region?
Do you gold panning is easy or hard? Why?
Answer my questions and comment about your visit below!
By: Amy Taylor @ 13:57:57 -