Latest News Blog
Friday, 11th September 2015
---
Lochiel Learn About The Past
Thursday, 21st November 2013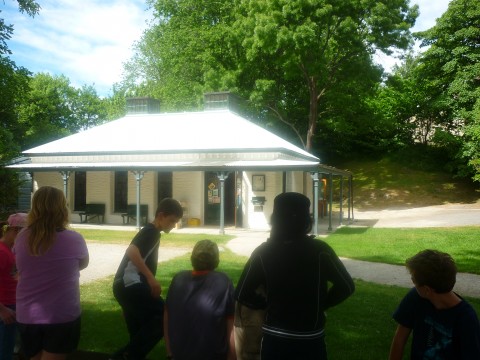 Guessing how old the Library might be. - How old was it?
Lochiel students had a blast learning about the past!
All the schools have been enjoying a full day primary programme at the Lakes District Museum & Gallery, and Lochiel was no exception! This is what we got up to:
A historic walk around Arrowtown checking out old Miners cottages - they were all very small! Why were they so small?
A tour of the Chinese settlement where we learned about the difficult learning conditions they experienced. Why did the Chinese settlers come to New Zealand?
A terrifying 1800's lesson with Miss Gray. she was very strict and used a cane to punish naughty children. What were the differences between your classroom and her classroom? Was anything the same?
Learning how to go gold panning at the Arrow river! Did any of you find gold? Can you remember the different methods of gold panning?
I had a fantastic day learning with you all! I hope you enjoy the rest of your camp Lochiel kids!
Try answer my questions and comment about your visit below!
By: Amy Taylor @ 16:27:03 -