Latest News Blog
Friday, 11th September 2015
---
Macandrew Bay School Marvel About the Wonders of Arrowtown!
Friday, 29th November 2013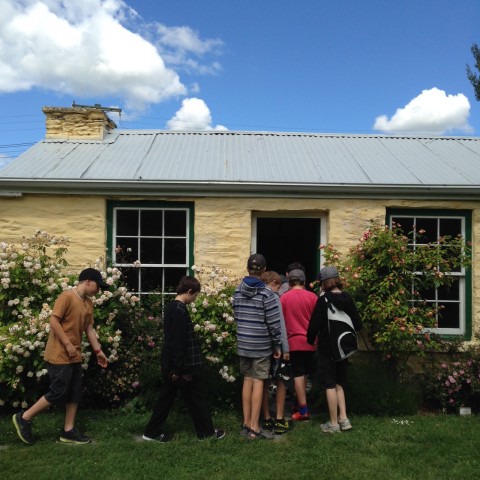 Going inside Saint Mary MacKillops cottage
Students from Macandrew Bay School visited our museum. It was a nice warm day, after having some rain earlier in the week.
When the Macandrew Bay kids came to visit us at the museum they got to experience a whole lot of fun! Our day was filled with:
A museum visit where students explored our different exhibits, including our infamous Long Drop display! Students also got to check out our current Sign of the Times exhibition which features autographed memorabilia from celebrities like Taylor Swift, Niki Minaj, Beyonce, Michael Jackson, Selena Gomez, Tiger Woods... and many more!
A scary experience with Miss Gray, in an 1800's schoolroom. Dressed up in full costume, and using slate boards, students really learned how difficult school used to be over 100 years ago.
A historic walk of Arrowtown to check out the Old Gaol, St Patricks church, Saint Mary Mackillops cottage,Old Miners Cottages, and Mary Cotters tree!
And some gold panning!! We learned about different methods for gold panning and about Jack Tewa - William Rees shepherd who discovered gold in the Arrow river.
How do we spell "Gaol" today?
What was the type of gold we found in the Arrow river?
What did students used to get the cane for in the 1800's?
What was something new you learned in the Museum?

Do you think learning was harder over 100 years ago? Why?
Why were the Miners cottages so small?
Did you skip around Mary Cotters tree? Did the good luck help you find gold?
Answer my questions and comment below about your visit to the Lakes District Museum & Gallery!
By: Amy Taylor @ 09:52:13 -