Latest News Blog
Friday, 11th September 2015
---
Oamaru Intermediate Inquire Into The Past
Friday, 15th November 2013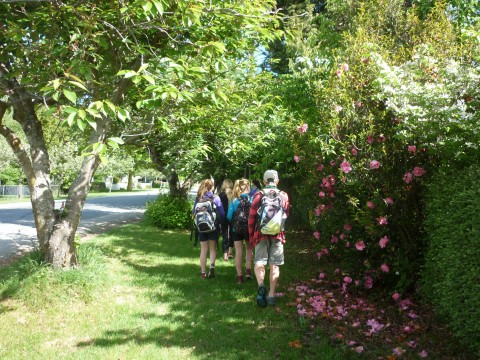 Walking under the trees on the Historic Walk
Intermediate students from Oamaru visited the Museum last Friday afternoon.
What a full on day! The sun was out, which made it a perfect day for exploring Arrowtowns history. This is what we got up to:
A Historic walk of Arrowtown which included being locked up in the Old Gaol, viewing old miners cottages, exploring Saint Mary MacKillops school house, and skipping around Mary Cotters tree! Ont the walk we leaned about the difficult the settlers faced in building their homes as they had to source building material from outside Arrowtown and sometimes from overseas!
A tour of the Chinese settlement, where we all got to explore inside the huts! We learned how the Chinese had been invited to Central Otago but not welcomed, the difficult living conditions they endured along the Arrow river, and about Ah Lums ghost!!!
We finished the day with gold panning, where students learned different panning methods and some were even lucky enough to find gold!
It was a truly fantastic day with these students - and it was an information overload with all the new information these kids took in.
What was your favourite part of your visit?
What was the type of rock found in the Arrow river that the European and Chinese settlers used for building?
Why did the Catholic Church have a 4 leaf clover in its stained glass window?
Why was it so difficult to build houses in Arrowtown during the 1800's?
Did you find gold?
Answer my questions and comment about your visit below!
By: Amy Taylor @ 16:48:16 -