Latest News Blog
Friday, 11th September 2015
---
The Lakes District Museum Gets Mentioned in the Education Gazette!
Friday, 8th November 2013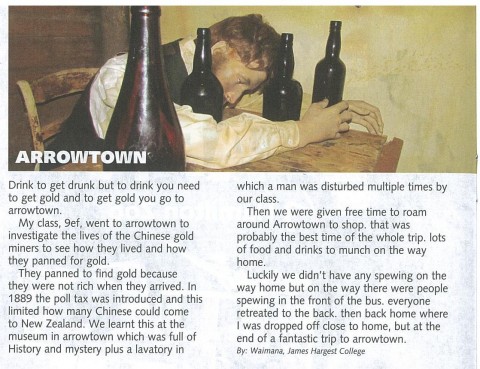 "Arrowtown"
Imagine our surprise when we saw some amazing stories written about the Lakes District Museum in the Education Gazette's edition of EOTC!
We had some year 10 students from James Hargest visit us in term 3 to learn about the Chinese gold miners. The visit must have made quite an impression, as three very well-written, descriptive pieces came out of it! The quality of the writing is very impressive, and I can see that the students really understood how difficult early mining life was here in Arrowtown!
Did you write any of these stories?
Do you have your own story about your visit that you would like to share with us?
Answer my questions and comments below!
By: Amy Taylor @ 15:23:35 -