Latest News Blog
Friday, 11th September 2015
---
Wakatipu International Students Explore Arrowtown!
Friday, 8th November 2013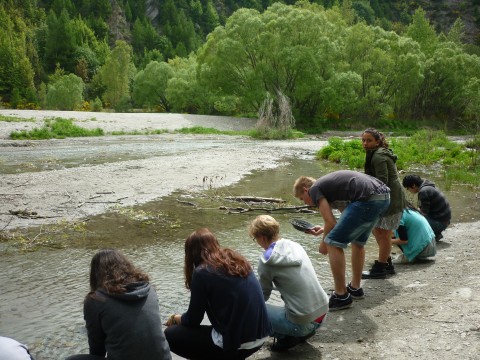 Gold panning at the Arrow River
International students from Wakatipu High visited our museum this morning. They learned about the history of the area, going back to when the Maori first arrived and visited the wakatipu region to hunt Moa and collect greenstone! The students also explored the rest of the museum, and checked out our 'Sign of the Times' exhibition. There were a few students from Brazil, and they were impressed to see a signed football top by Pelé, a famous football player!
We finished the morning with gold panning at the Arrow river. It was an overcast warm morning, which was perfect for spotting specks of gold! Everyone learned about Jack Tewa (the first person to find gold in the Arrow river), and the different methods for panning. Some students found gold, and one girl found 3 specks of gold!
What was your favourite part about visiting Arrowtown?
Do you think gold panning is difficult or easy?
Answer my questions and comment below!
I hope you all enjoy the rest of your time here in NZ!
By: Amy Taylor @ 12:18:09 -