Latest News Blog
Friday, 11th September 2015
---
Warrington Wonder About the Past!
Friday, 29th November 2013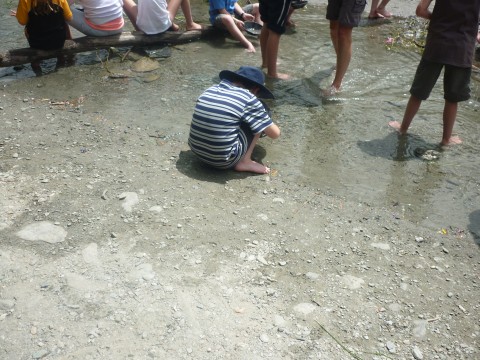 Finding gold in the Arrow river!
Denise our educator worked with students from Warrington School on the 28th November. To explore the past this is what these students got up to:
A museum visit which included handling artefacts and exploring the museum. Students got to handle a Moa bone and they also got to check out our infamous long drop display!
A historic walk of Arrowtown, where Denise took students inside the Old Gaol and taught them different old fashioned school games to play at the Catholic Church.
A tour of the Chinese settlement, where students went inside Ah Lums store and learned about the different building materials these huts used.
Gold Panning at the Arrow river! Denise taught the students different methods of gold panning, and helped some lucky students even find gold!
What was your favourite part of your visit to Arrowtown?
What was the type of gold that was found in the Arrow river?
What was something new you learned during your museum visit?
Who was Ah Lum?
What did Ah Lum do in New Zealand?
What was your favourite old fashioned school game you played?
Answer my questions and comment about your visit below!
By: Amy Taylor @ 09:26:39 -
---
Comments (16)