Latest News Blog
Friday, 11th September 2015
---
Connecting Kids to Museum Exhibitions and Concepts with a WWI Focus
Friday, 7th February 2014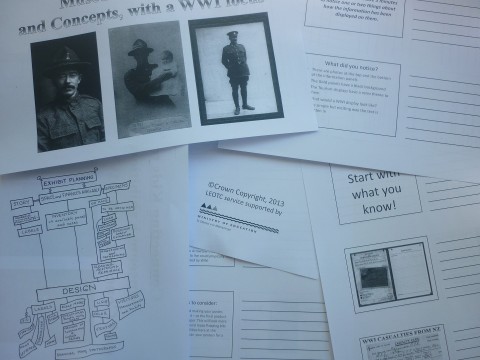 The worksheets students completed during our session
94 year 7 and 8 students from Arrowtown visited the Lakes District Museum & Gallery to learn about the design and concept processes for setting up museum exhibitions.
We covered a lot of information - as I outlined to the students professional expectations for museum displays that would be applied to their own research projects based on Peace and Conflict.
Here are some of the key ideas I shared with students about creating effective museum exhibition displays:
Make your displays image rich - use lots of pictures
Use headings, bylines, and make your first and most important paragraph a larger size than the rest of your text
Think of what colours, fonts, and other styles can contribute to the theme of the information you are displaying (e.g. red for poppies, white for the white crosses, or dark grey and blue colours to help create a sombre effect)
Your information must be written in your own words and be simple, respectful, and informative
Make the size of your text a large size, as most of your audience will be standing when they read it
We also looked at some display panels from our previous exhibitions and noticed how the text, images, and the how the panels overall were displayed. The Gold 150th panels looked old fashioned with a grey back ground and the title "Gold" in a swirly decorative font. The tourism panel looked bright and inviting by using yellows and orange colours along with an exciting text font!
This followed onto research ideas that students could use for their projects. We all agreed that by starting with something the students already knew about or were really interested in and then linking this to WWI, would be a fantastic way to start their research! Another great suggestion was for students to do profiles on family members who might have contributed to the Great War.
The presentation finished with ideas on how students could display their information - such as making their displays look like telegrams, diaries, postcards, or letters, maps, camouflage, and lots of other exciting things!
To help inspire your research, I found this old film which shows soldiers in the trenches - check it out!
Click here to watch a short film to see what New Zealand soldiers experienced in the trenches in WWI!
What are some of your ideas for your research project?
What was something new you learned about museum displays?
Answer my questions and comment about your visit below!
I can't wait to see the posters and projects everyone will end up producing - what a great way to celebrate WW100!
By: Amy Taylor @ 14:39:39 -