Latest News Blog
Friday, 11th September 2015
---
Makarewa Makes the Trip to Arrowtown!
Wednesday, 26th February 2014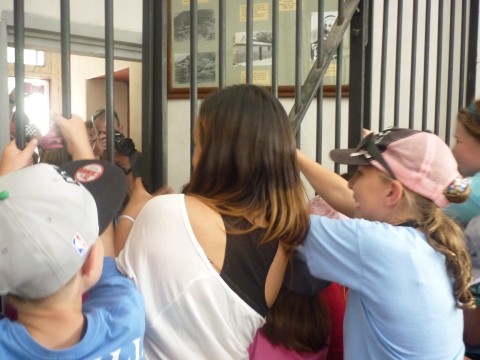 Getting locked up in the Old Gaol!
Year 5 and 6 Students from Makarewa School visited us today! Their visit was spread over TWO WHOLE DAYS! So it was an information overload for a lot of these students!!!
These are the activities all the students did with us here at the Lakes District Museum & Gallery:
A frightening lesson in an 1800's school room with Miss Gray (we learned about how technology has made learning a lot easier)
A historic walk of Arrowtown which included a visit to the Old Gaol (we learned how buildings used roof lanterns to get light before electricity)
A museum visit which included handling artefacts (objects like the Moa bone and pounamu mere explained to us how people used to live)
A tour of the Chinese settlement where we heard about a scary ghost story! (The Chinese huts were made out of Schist stone and wood)
And gold panning!! Some students played a trick on me and had purchased gold flakes from the Gold Shop which they put into their pans! I was gobsmacked when the students came rushing over to show me the gold they had "found"!!!!
Phew - what a busy month!
Who found gold?
Do you think gold panning is easy or hard? Why?
Do you think learning in an 1800's school room is easy or hard? Why?
Who was Marry Cotters tree named after?
Who was the first person to discover gold in the Arrow river?
Why did the Chinese settlers come to Central Otago?
What was a pounamu mere used for?
Answer my questions and comment about your visit below!
By: Amy Taylor @ 14:59:41 -