Latest News Blog
Friday, 11th September 2015
---
Museum Fun Day - Celebrating Chinese New Year!
Tuesday, 4th February 2014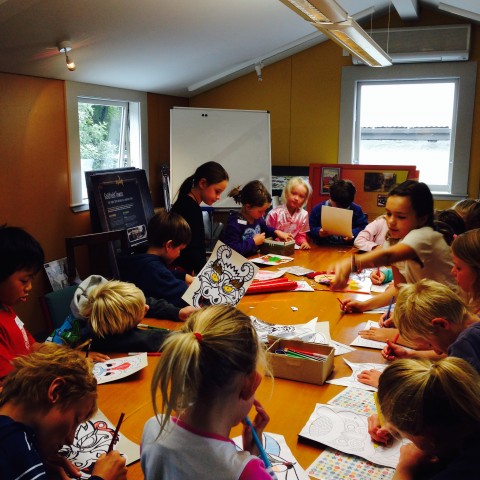 Making Masks
On Friday the 31st January we had 18 kids come spend the day at the Museum to celebrate Chinese New Year and to welcome in the year of the horse. It was a fantastic day, with everyone having a really great time.
We started the day with making Chinese masks, which we then took down to the Chinese settlement where we had local ODT reporter James Beech take some photos of the kids! You can check out the pictures and read what James Beech wrote here!
After the photo opportunity we had an information treasure hunt, with everyone getting into groups and reading the interpretation panels and exploring the huts at the settlement, to discover what life was like for the Chinese settlers in Arrowtown.
After a quick lunch break, we all went gold panning in the Arrow River - some kids were even lucky enough to find gold! We then watched a Chinese brush art demonstration by Stan Chan, which was really impressive.
We finished off the day by playing some traditional Chinese games such as "Catch the Dragons Tail" and "Cat and Mouse", and then watching the movie Illustrious Energy which was based on the hardships the Chinese Miners experienced when they came to New Zealand.
Happy Chinese New Year!
What was your favourite thing about the Museum Fun Day?

What was something new you learned about Chinese New Year or Chinese Culture?
Answer my questions and comment about your visit below!
By: Amy Taylor @ 09:14:31 -
---
Comments (3)