Latest News Blog
Friday, 11th September 2015
---
Riverton Really Know How To Learn!
Wednesday, 5th February 2014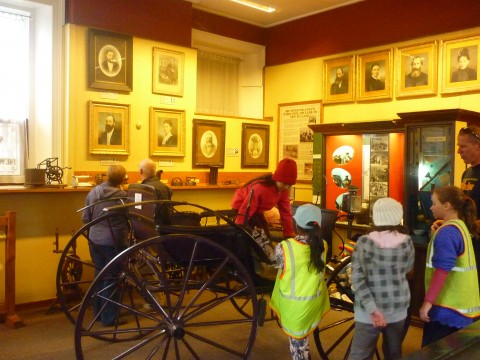 Checking out the Phaeton Carriage!
We had 28 students from Riverton School visit the Lakes District Museum today! It was a fantastic day as all the students were very inquisitive and asked fantastic questions. This is what we got up to:
In Miss Grays classroom, students were frightened out of their wits by grumpy Miss Gray. Miss Gray had a cane on her which she used to cane naughty children. The schoolroom was very bare, with the desks and chairs made out of wood and a chalk board that Miss Gray wrote on.The students learned a poem, practiced their handwriting, and did a physical drill. Then poor young Daniel got a caning because the class was so naughty!
In the Museum, students got to explore the Museum. Everyone saw the long drop (the lavatory), the Grog Shanty, and the blacksmiths. The streetscape of the Museum was everyone's favourite place to visit. Everyone learned a lot, as they moved in groups and looked at specific displays.
We finished the day with gold panning. Students learned about different methods for gold panning, and about Jack Tewa who found the gold in the Arrow river in 1862. Some kids even gold! Were YOU lucky enough to find gold?
Why don't we have a blacksmith anymore?
Can you remember what the Grog Shanty looked like? What was it used for?

What did you use for handwriting in Miss Gray's classroom?
Do you think learning was harder 150 years ago? Why?
Is it easy or hard to go gold panning? Why?
Answer my questions and comment about your visit below!
By: Amy Taylor @ 16:12:48 -