Latest News Blog
Friday, 11th September 2015
---
St Bede's College Collect Knowledge
Friday, 28th February 2014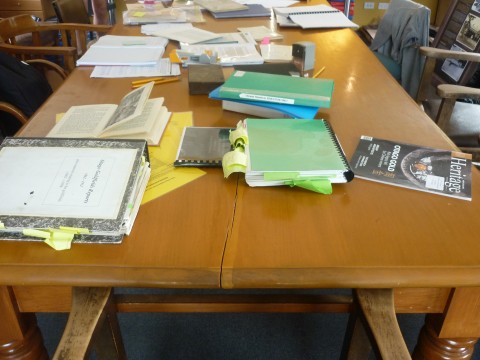 Researching in our conference room
Yesterday, Year 13 History students from St Bede's immersed themselves in the Lakes District Museum's archives finding information for AS 3.1 & 3.2.
Students had a wide range of focusing questions from women, to the Chinese, to the impact immigrants had on the economy. The students enjoyed extracting information from our very precious primary sources, such as our old court case books.
During the visit we also took St Bede's on a historic walk of Arrowtown where students got to check out our Miners Cottages, the Old Gaol, and Saint Mary Mackillops cottage. This was followed by a visit to the cemetery, to help students understand the living conditions these miners faced during the late 1800's. A tour of the Chinese settlement, also brought forth new information for how the Chinese settlers lived and reasons for why they came to New Zealand, as well as why they ended up staying.
We hope you have lots of valuable information St Bede's, comment below about your visit and interesting facts you learned with us!
By: Amy Taylor @ 10:17:19 -