Latest News Blog
Friday, 11th September 2015
---
Arrowtown Autumn Festival 2014!
Tuesday, 15th April 2014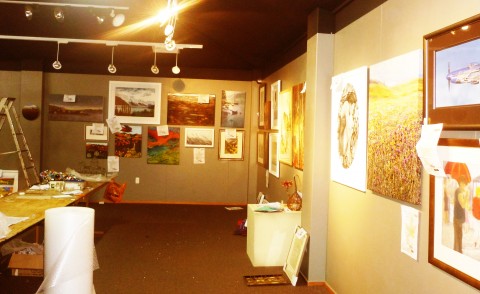 Installing the new Autumn Festival Exhibition
The Gallery at the Lakes District Museum is a hive of activity today. The Museum Director, David Clarke and our museum board members are currently working together to help install the annual Autumn Festival Exhibition!

The annual Autumn Festival Art Exhibition has opened Arrowtown's Autumn Festival since 1984. This exhibition hosts the highest caliber of professional and amateur artists from around New Zealand. The variety of works in this years exhibition is incredible as we have seen submissions of sculptures, paintings, pottery, and plenty more!
This exhibition will run from the 25th April 2014 until the 25th May 2014, so make sure you drop in for a visit to check out works produced by up and coming artists as well some more established artists from around the region.
By: Amy Taylor @ 12:29:22 -