Latest News Blog
Friday, 11th September 2015
---
Gore Main School Get Excited About History!
Thursday, 10th April 2014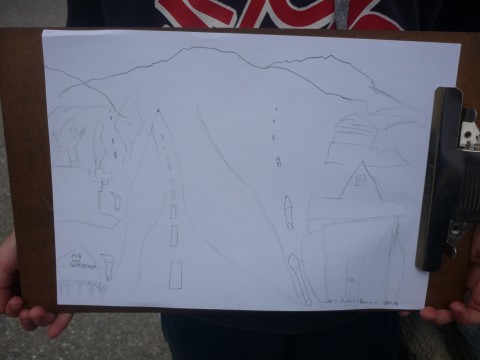 Sketching Buckingham Street!
Gore Main School sent 26 of their fabulous and energetic year 6 students to visit the Lakes District Museum. To explore the past this is what these students got up to:
A museum visit which included handling artefacts and exploring the museum. Students got to handle a Moa bone and they also got to check out our infamous long drop display!
A historic walk of Arrowtown, where students went inside the Old Gaol during the historic walk, students also sketched Buckingham Street and used it as an opportunity to think about how the street has changed over 150 years.
A tour of the Chinese settlement, where students went inside Ah Lums store and learned about his ghost ... At the Chinese settlement we spent more time sketching, and the students used that time to really think about the minimal building materials the Chinese settlers used.
Gold Panning at the Arrow river! I taught the students different methods of gold panning, and helped some lucky students even find gold! I wonder if skipping around Mary Cotter's tree helped?!
What was your favourite part of your visit to Arrowtown?
What was the type of gold that was found in the Arrow river?
What was something new you learned during your museum visit?
What were the Chinese huts built out of?

How has Buckingham Street changed over 150 years? (think about what the early settlers might have used for transport)!
Answer my questions and comment about your visit below!
By: Amy Taylor @ 16:10:56 -