Latest News Blog
Friday, 11th September 2015
---
Linwood College Gain Geographical Knowledge!
Monday, 14th April 2014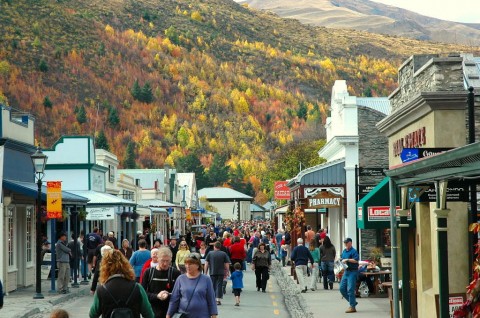 The annual Arrowtown Autumn festival is a great way of attracting tourists during our shoulder seasons (spring and autumn)

Its been a full on start to the new week, with a new exhibition install for our annual Arrowtown festival here at the Lakes District Museum. The busy start also included 41 year 13 students from Linwood college visiting for our senior students Geography presentation.
We split the students into two groups to accommodate for the large student numbers. I spoke with one group of students about the different periods of tourism here in the Wakatipu region, whilst the second group explored the museum. We then swapped groups and I spoke to the second group - PHEW! The students and the teachers found the visit very valuable as it linked directly with an assessment they were focusing on at school.
The highlights of the talk included some historic tourism photographs of a horse and carriage coaching into Skippers Canyon. The students were also surprised to hear about a past tourist activity called Fly By Wire, which was the fastest ride in the world at the time as it reached speeds of up to 170 KPH.
Can you remember why people originally came to the Wakatipu region?
When the first tourists started arriving in the late 1800's, what activities did they enjoy?
What has been a highlight of your visit to Queenstown?
Answer my questions or comment about your visit to the Lakes District Museum below!
By: Amy Taylor @ 15:25:49 -